Game day is almost here! Just a few days away.  Every where I turn someone is discussing what food is on the menu for Super Bowl Sunday. I bet my mom and I spent an hour on the phone this morning just discussing what all foods we will be making for the big day. One thing on my list is this easy Cheesy Chicken Chipotle Dip!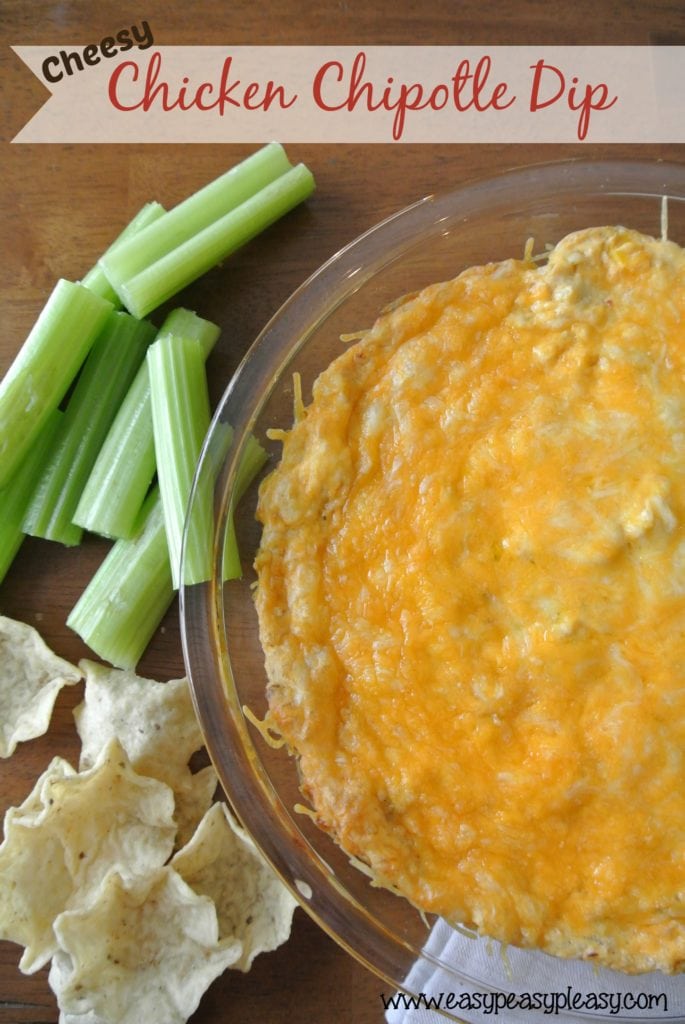 Let me tell you this dip is delicious. I have this yummy soup recipe "Chicken Chipotle Corn Chowder" that is out of this world! I always dip tortilla chips into the soup and it got me thinking. How can I make this soup into a dip? With a little testing in the kitchen, I was able to capture my favorite soup flavor and low and behold a new dip was born!

In this recipe, I use a rotisserie chicken. I just love the flavor that you get when a chicken is slow cooked on a rotisserie. Plus, the only work involved is shredding the chicken. You could absolutely cook your own chicken or even use the canned chicken. Whatever floats your boat!
One of my favorite things about this recipe is you can adjust the seasoning to your liking. There is nothing raw in this recipe so you can taste test before you bake. I personally love the flavor of cumin so I add a little more. Once you get the ingredients mixed up, just give it a taste.
Recipe Time
Cheesy Chicken Chipotle Dip
Ingredients
2 cups rotisserie chicken, shredded
1 pkg cream cheese, softened
1 can cream of chicken soup
1 can corn, drained
2 tablespoons chipotle peppers in adobo sauce, chopped
1 teaspoon garlic powder
1 teaspoon onion powder
1 teaspoon cumin
1/4 teaspoon oregano
1/4 teaspoon salt and pepper
2 cups shredded cheese, divided
Directions
Preheat oven to 350 degrees. In a large bowl mix cream cheese and cream of chicken soup until well combined. Add all of the seasonings and peppers. Stir in chicken, corn, and 1 cup of cheese. Transfer to a baking dish. Sprinkle the remaining cheese evenly over the dip. Bake uncovered for 25-30 minutes or until cheese is melted and bubbly. Serve with chips or your favorite veggies.
easypeasypleasy.com
There you have it! Cheesy Chicken Chipotle Dip for the win! If you are looking for some other game day food ideas, I've got you covered!
Way Easier Than Jalapeno Poppers-Ranch Jalapeno Popper Dip
Mini Seven Layer Dip Football Bowls
Need a party food theme? Check out my Panini Salad Bar! It's Party Food Made Easy!
Need some football party decorating ideas? Check out my Easy Football Party Decorations!
Don't be a stranger….What are your favorite things to eat on Super Bowl Sunday?
Subscribe to Blog via Email