Ya'll this one pan fettuccine recipe is a huge hit in my house. It's super easy, oh so delicious and cooks in about 20 minutes. If we have leftovers, those get reheated and eaten too! It's the perfect recipe as a side or main dish to any night of the week.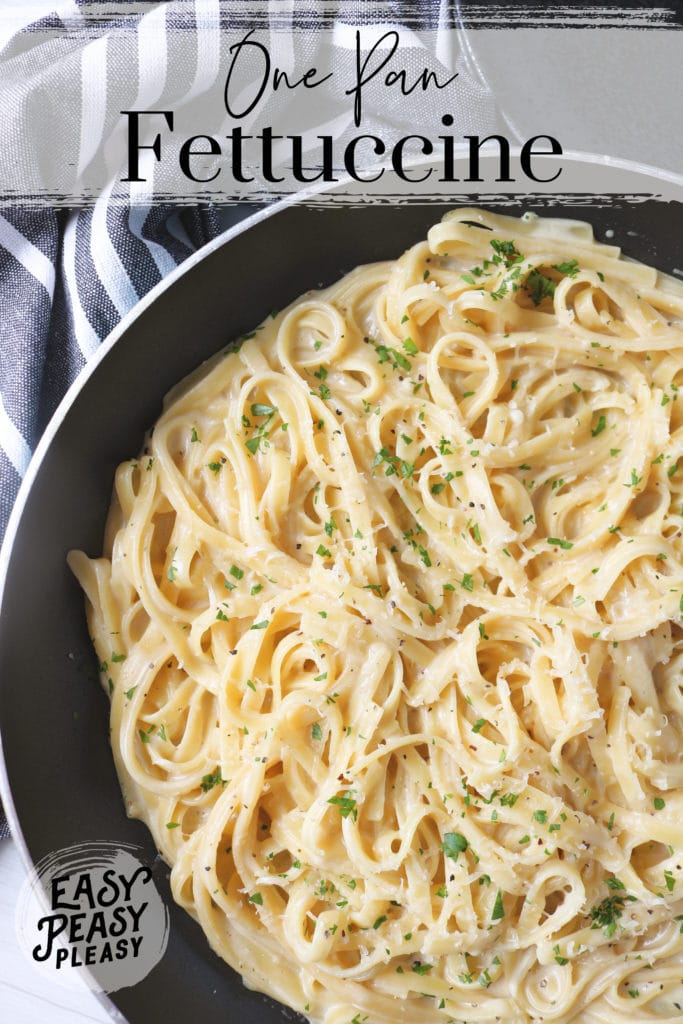 My good friend Jayla let me in on her secrets to this amazing one pan fettuccine recipe and I'm sharing it with you! It's a Game Changer!
I love using chicken broth in recipes but when I'm out, I like making my own. Plus with one simple item you can make your own chicken broth anytime. That's where my friend Jayla totally gave me a game changer idea! She enlightened my mind when she told me about chicken bouillon by Knorr. It's like Chicken bouillon cubes but it's not. It's chicken bouillon powder and gives any recipe that best cooked all day flavor.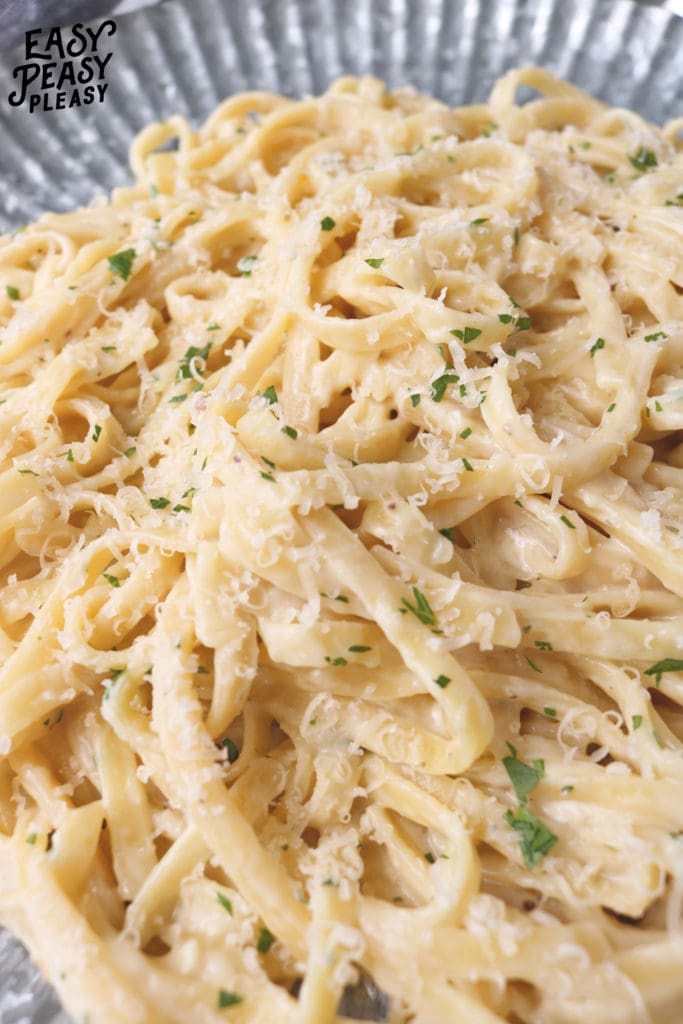 When Jayla told me about this easy one pan fettuccine recipe I was hooked. She said her family loves the pasta dish with shrimp and I agree… it's absolutely perfect. I cook this pasta on a regular basis and add in shrimp or chicken. By the way, you can totally use the same pan to cook your protein. Season and cook your protein in the skillet, then remove and set aside. Cook fettuccine according to directions in the same pan. Once pasta is ready, toss your shrimp or chicken in the pasta or simply serve on top of pasta.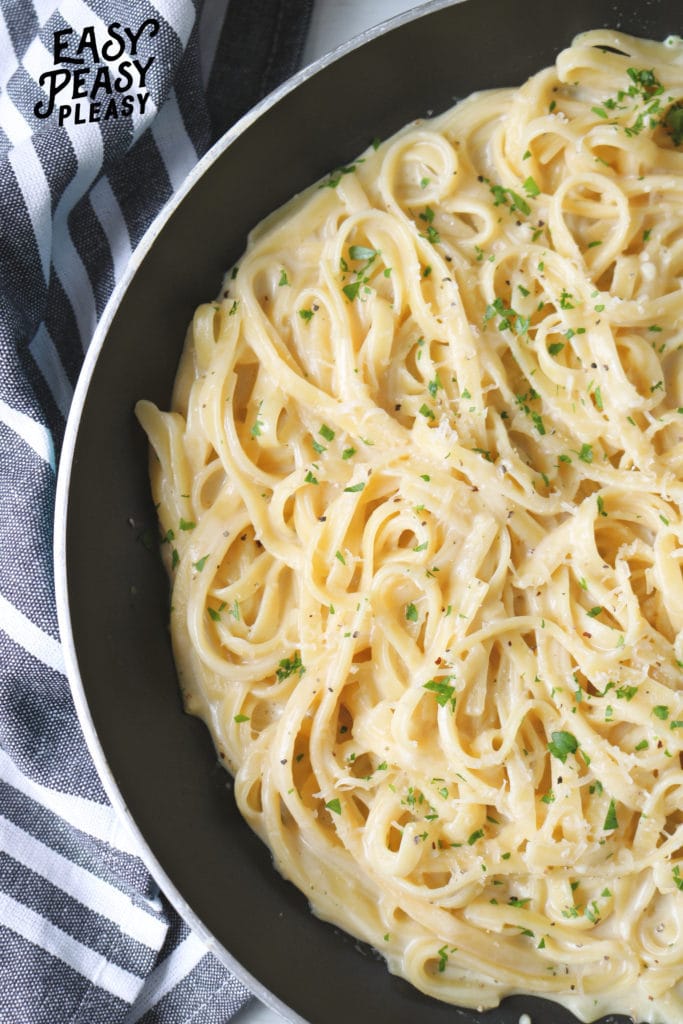 Jayla uses angel hair pasta because that's what her family loves. My family loves fettuccine so that's what I use. You could use spaghetti, linguine, capellini or vermicelli. The cooking time may vary by a minute or 2 depending on the cut of pasta. The best way to know if the pasta is done, pull out a piece (blow on it) and taste test.
If you like your pasta al dente and it has that toothsome bite, then it's ready. If you prefer your pasta to be a bit more tender then let it cook another minute or 2.
While you are taste testing for the bite of the pasta, this is your chance to adjust the flavor. If you prefer a little more salt or pepper, now is your chance to add to your liking.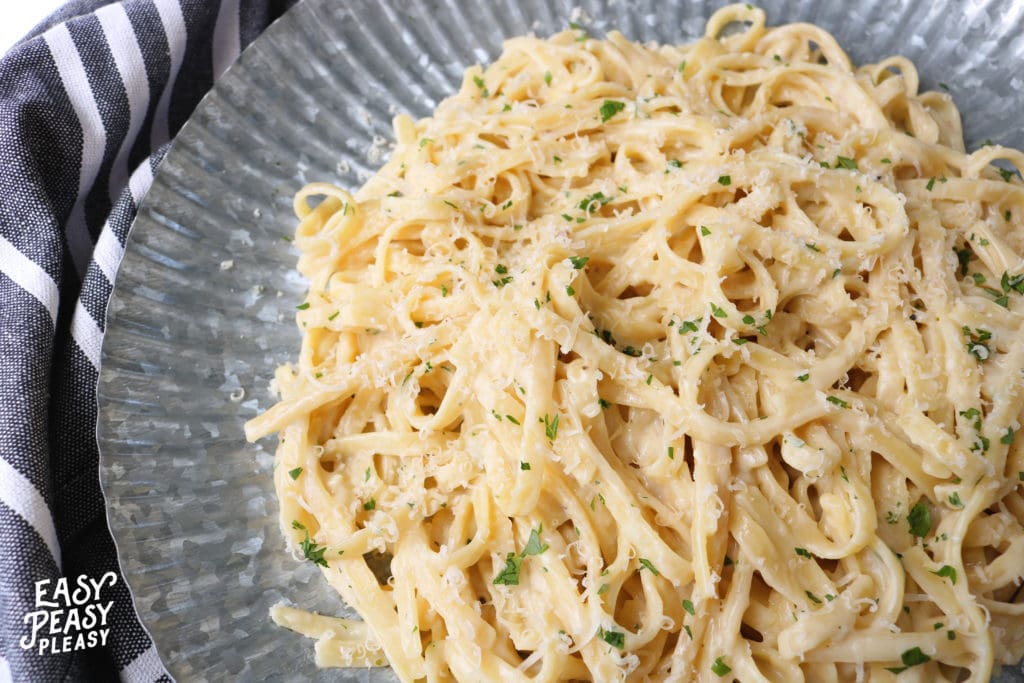 Tips to make your process Easy Peasy Pleasy…
I break my fettuccine in half. It fits in the pan well and is easy to stir.
No chicken bouillon…use chicken broth. 1 cup of chicken broth to each cup of water.
I keep jarred garlic in my fridge all year round. I love the ease of being able to use my measuring spoons to use as much or as little garlic as I need anytime. Plus my fingers don't smell like garlic since I'm not chopping by hand.
Add more milk if necessary to keep the pasta creamy.
If you love pasta then you should check out this easy Lasagna Ravioli or if you are looking for Italian, check out my family pleasing Chicken Parmesan.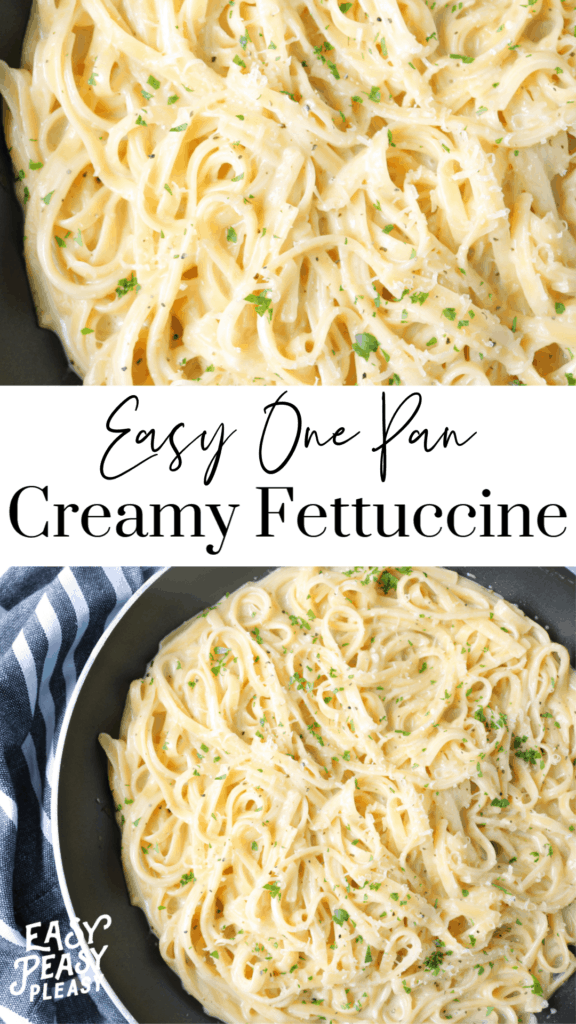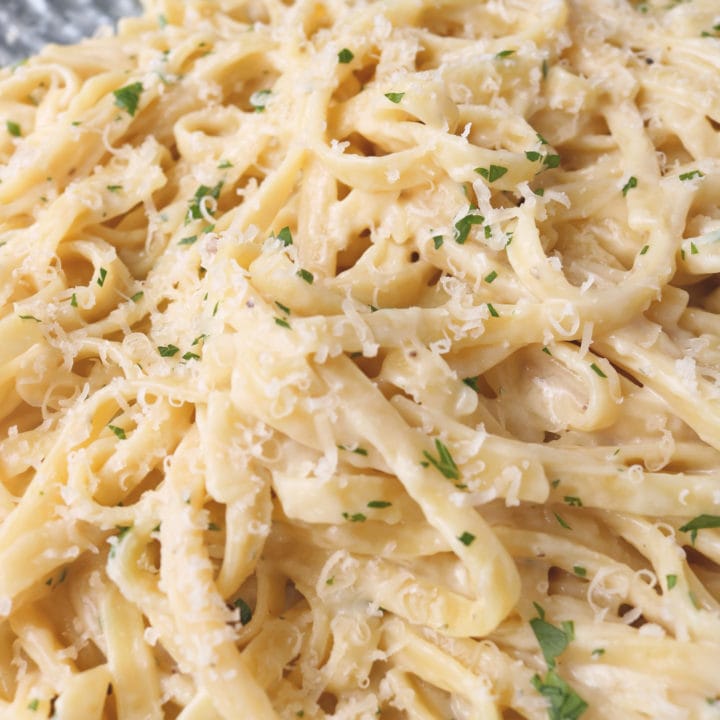 One Pan Fettuccine
This delicious one pan fettuccine comes together in 25 minutes. Its the perfect recipe addition to any night of the week.
Ingredients
2 tablespoons butter
2 teaspoons minced garlic
3 teaspoons chicken bouillon powder
2 cups water
1 1/2 cups milk
8 ounces uncooked fettuccine
1/4 cup grated Parmesan cheese
salt and pepper to taste
chopped fresh parsley, optional
Instructions
Melt butter in large skillet over medium heat. Add garlic and saute, stirring frequently, about 1 minute. Stir in water, milk, and chicken bouillon powder until well combined. Break fettuccine in half and add to skillet. Stir and bring to a boil. Reduce heat to simmer and stir occasionally for 20 minutes or until pasta is cooked to your desired tenderness. Add in Parmesan cheese. Take a taste and season with salt and pepper. If mixture is to thick, add a little milk. Top with chopped fresh parsley. Eat and enjoy!
Subscribe to Blog via Email