The snow is gone and the weather is so much nicer! It's time to get outside and play! It's time to clean up those flower beds! It's time to get the gardens started! It's time to get those grills a going! It's time for another Double Duty Recipe!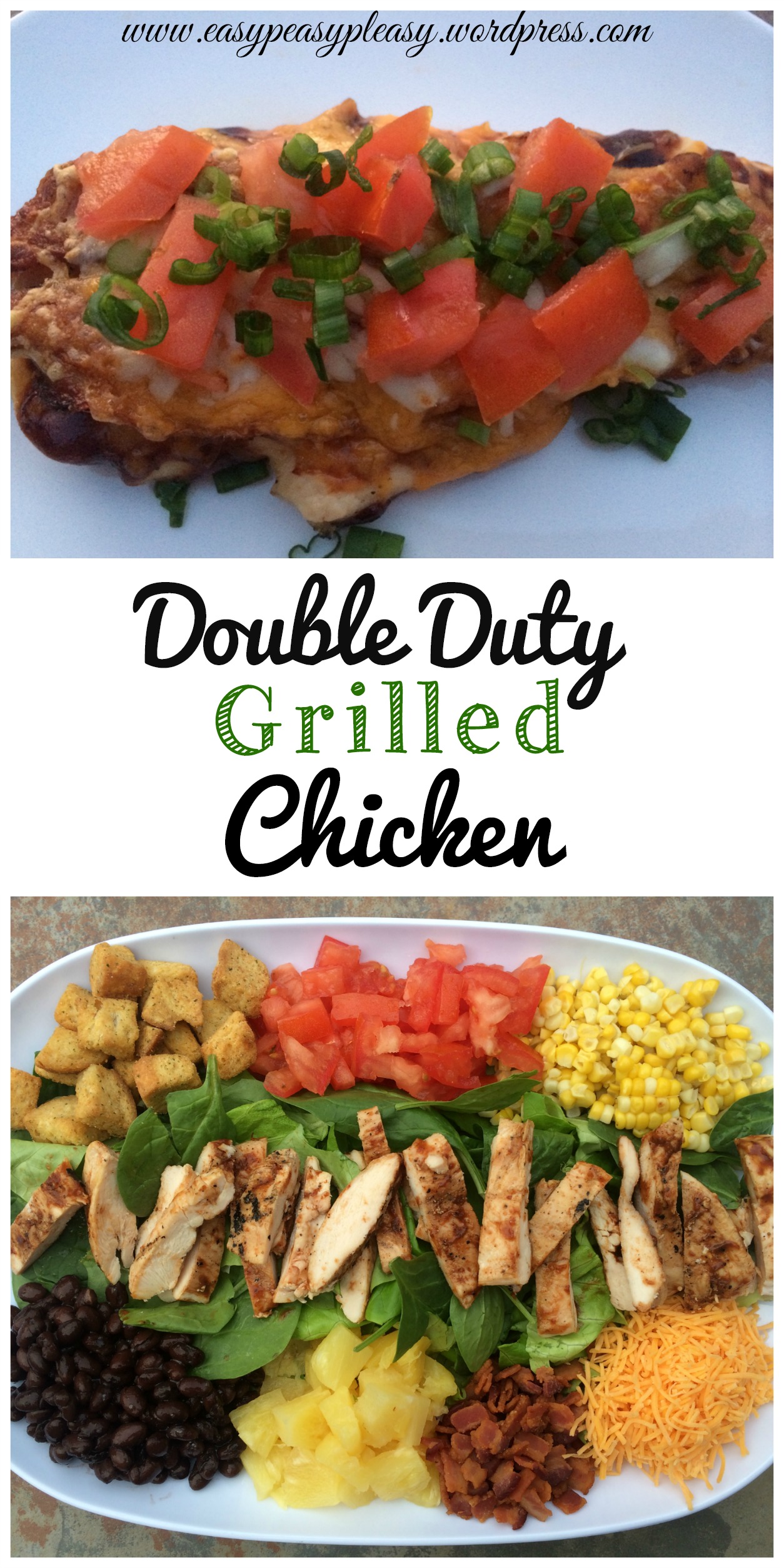 Double Duty Grilled Chicken is what's on the menu tonight! Well, I had it last week so I could take the pictures and write this post…LOL…but it could be what you have tonight!
To get the first meal going I start with the corn so it can be soaking during prep time. I grill enough corn for this meal and 1 or 2 more ears for the next meal.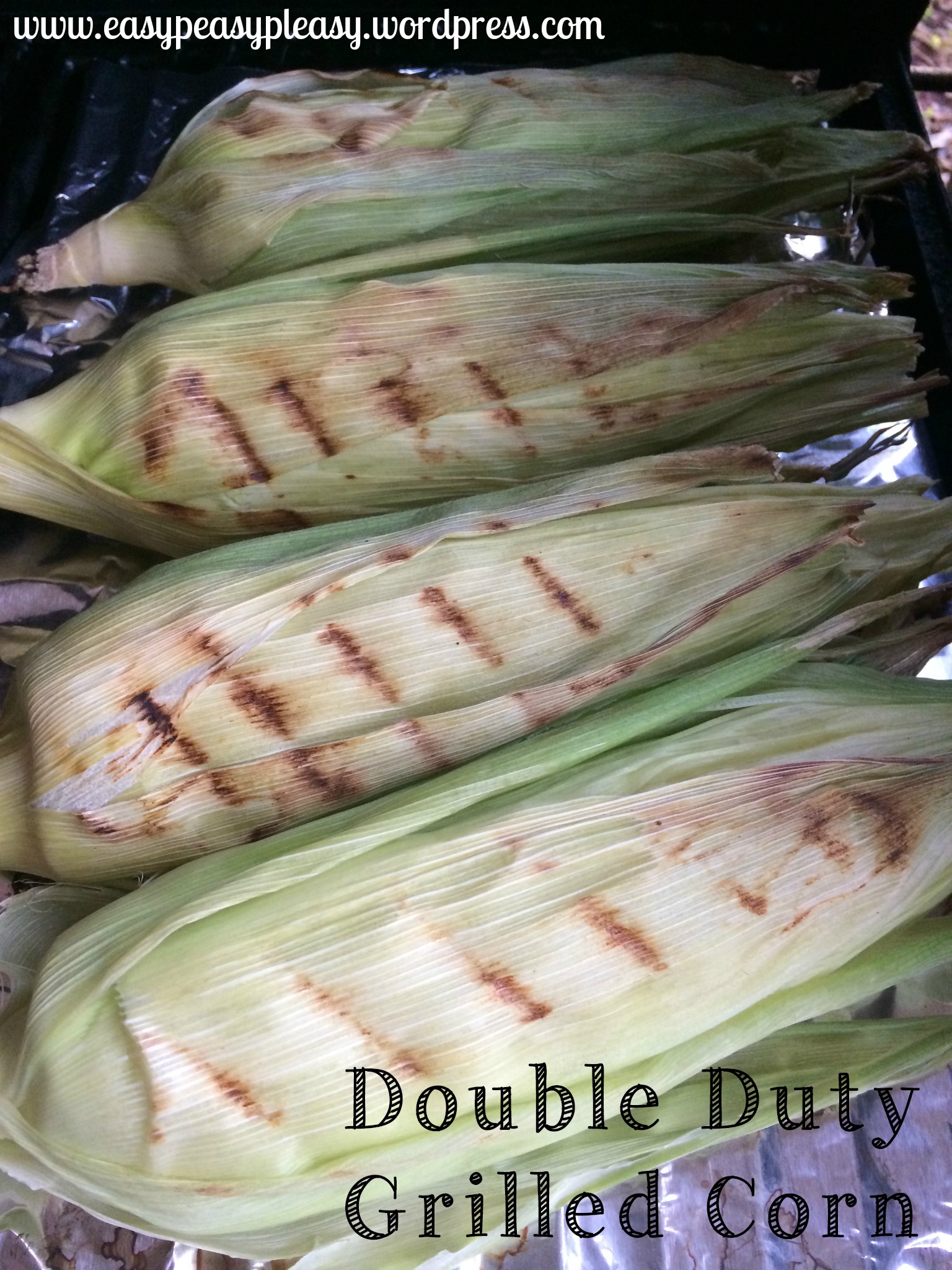 Grilling Corn in the husk…I pull back the husk but leave it attached. I grab the silk end and break it off of the ear which will pull most of the silk away at the same time. Grab any pieces of silk that are still hanging on and remove. Bring the husk back up and around the ear of corn. Soak the whole corn with husk in a big bowl full of water for 20 to 30 mins. This will keep the husk from burning and the corn moist during grilling. I also like to place a piece of foil on the grill for added protection.
Prep Time
Get some bacon frying….You will want to fry up enough bacon for 2 meals.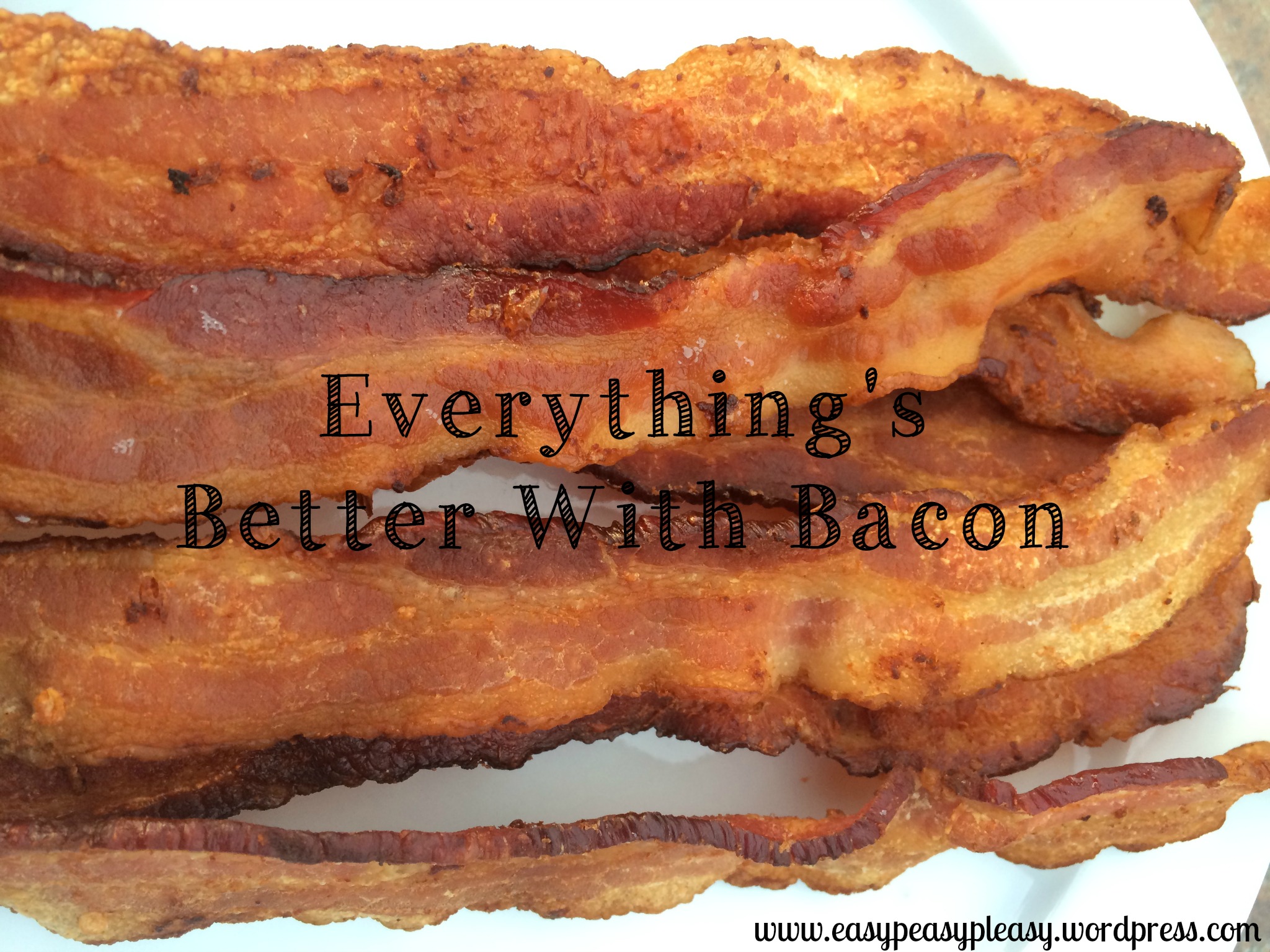 Bacon Bacon Bacon! Have you ever heard the expression "a pictures worth a thousand words"? Nothing else to say about that!
Chop some veggies…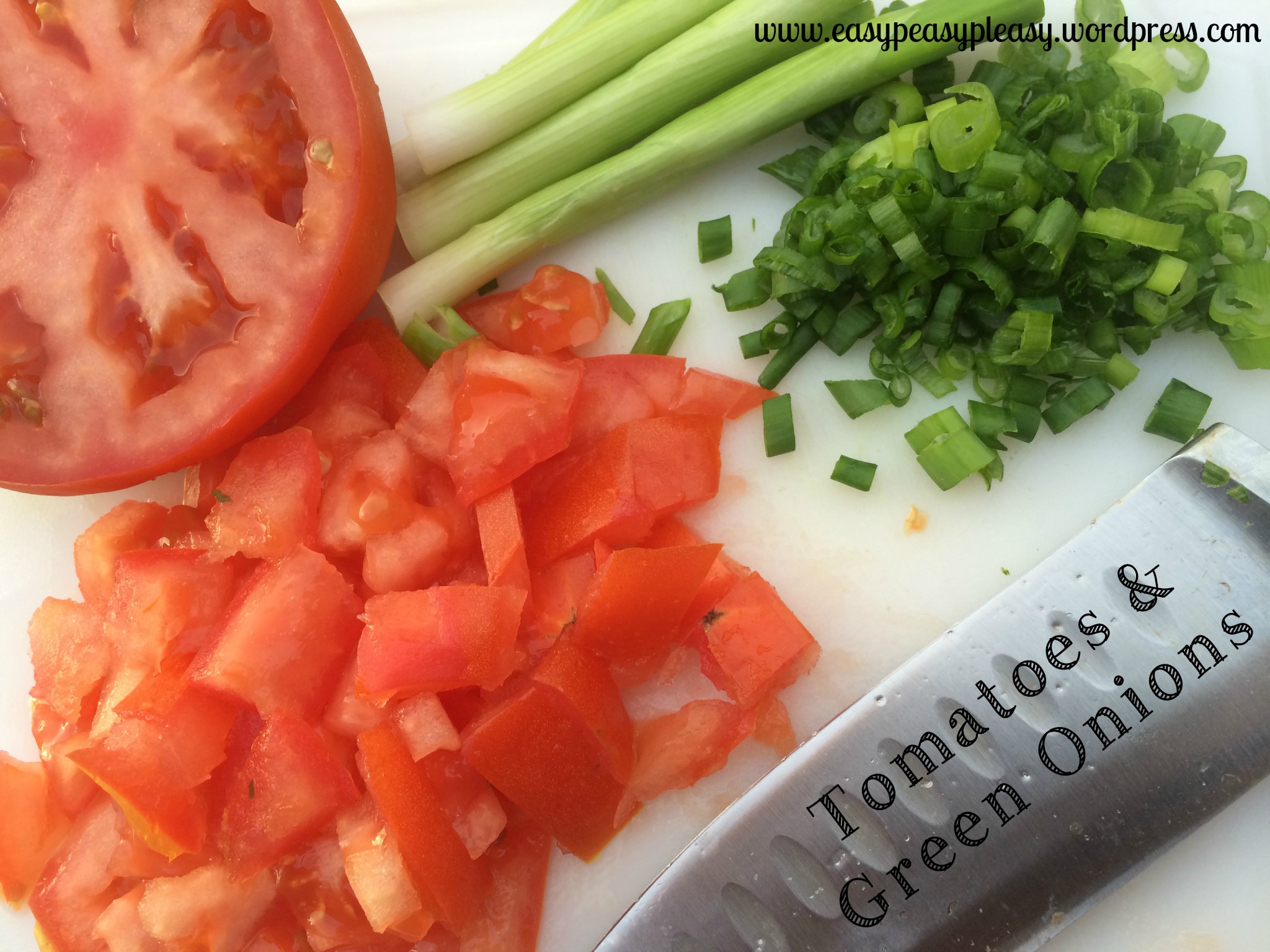 Everything I prepare for this first meal will be used for another meal later in the week too. Keep in mind how much you will need for both meals combined.
Next on the agenda is the Double D Chicken Breast that I split in half. Click on the link for easy to follow instructions on doubling your chicken breast. For the following recipes I split 4 chicken breast giving me 8 total. Now we are off to the races! I want to grill my chicken once and eat twice.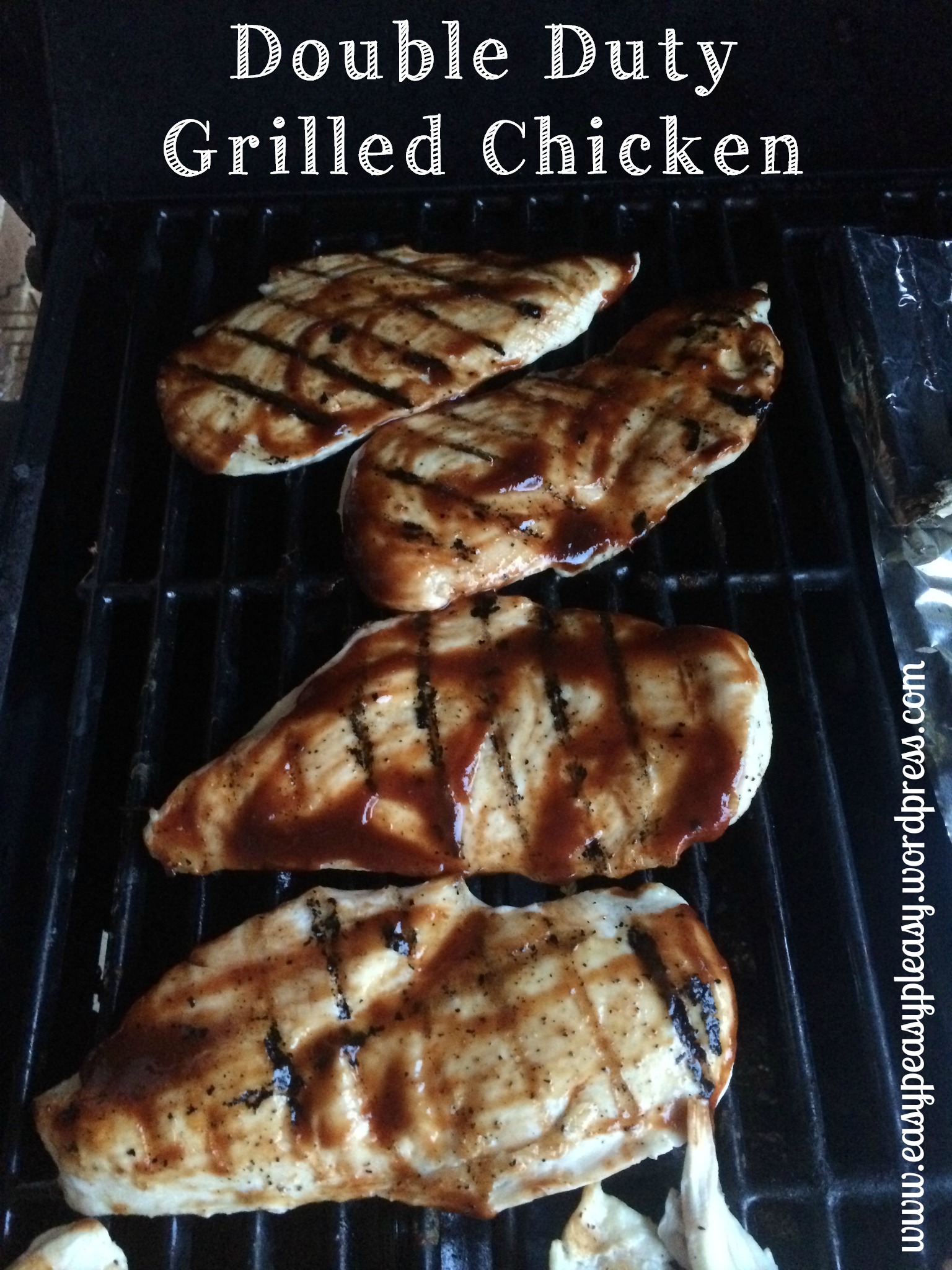 This first meal is Loaded Grilled Chicken!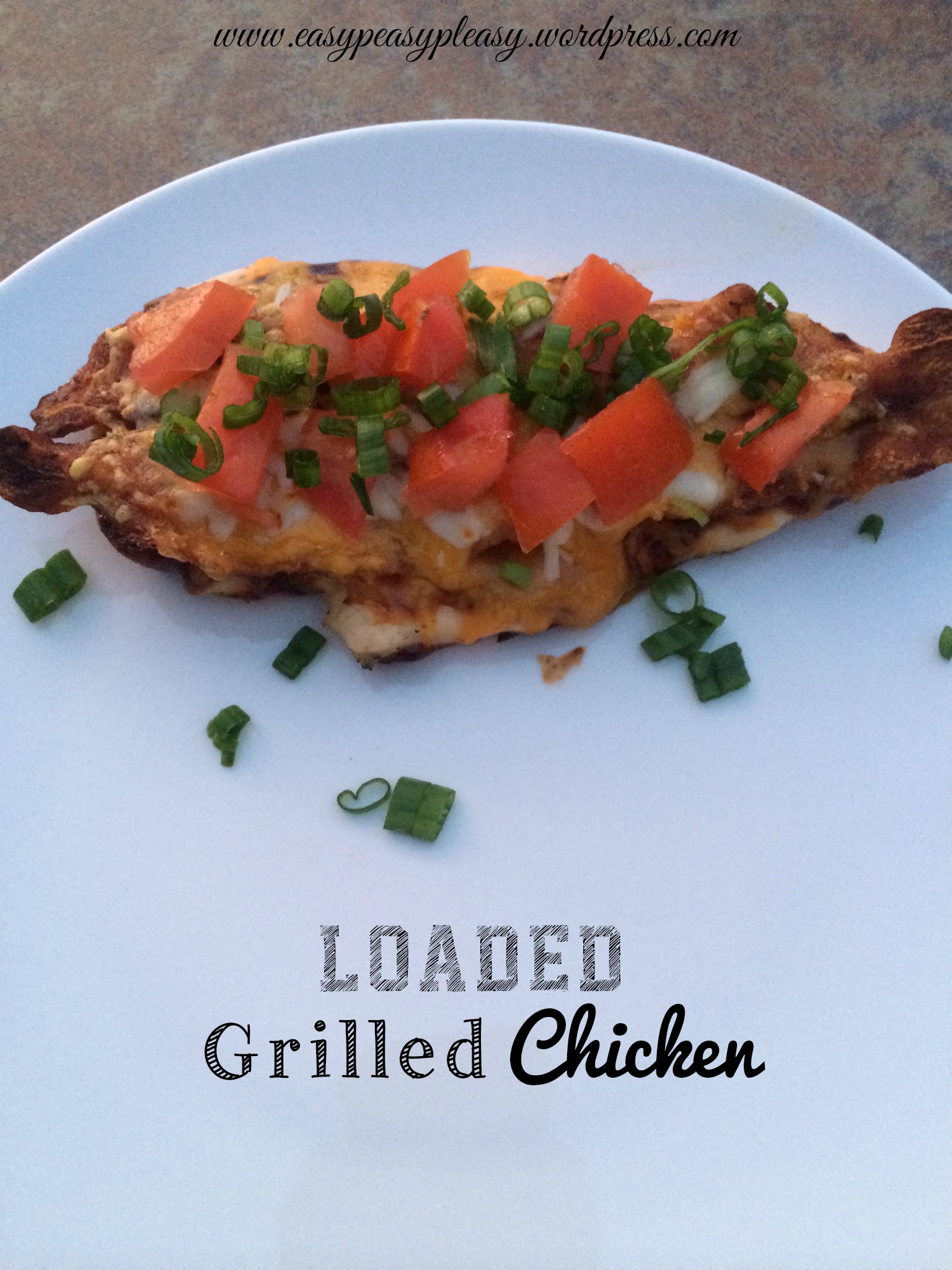 Loaded Grilled Chicken
Servings: 4
Difficulty: easy
Ingredients
2 chicken breasts cut in half butterfly style
BBQ sauce
8 slices cooked bacon
Chopped tomatoes
Chopped green onions
Shredded cheese
Salt & Pepper
Directions
Salt and pepper both sides of your chicken cutlets.
Grill chicken breast 3 to 5 mins on each side and brush with BBQ Sauce.
Add shredded cheese to the top of each chicken breast.
Layer 2 pieces of bacon on top of cheese on each piece of chicken.
Add more cheese on top of the bacon.
Close up grill until cheese is fully melted.
Remove from grill and add chopped tomatoes and green onions.
Tips…Placing some shredded cheese on top of the chicken before adding the bacon will keep the bacon from sliding off. Cook your bacon while prepping your other items.
Butter up some of that grilled corn and throw on some sweet potato fries or my Double Duty Ranch Potatoes for your sides!
This next Double Duty Grilled Chicken Recipe comes together in a cinch! Takes about 10 mins prep and you are ready to go!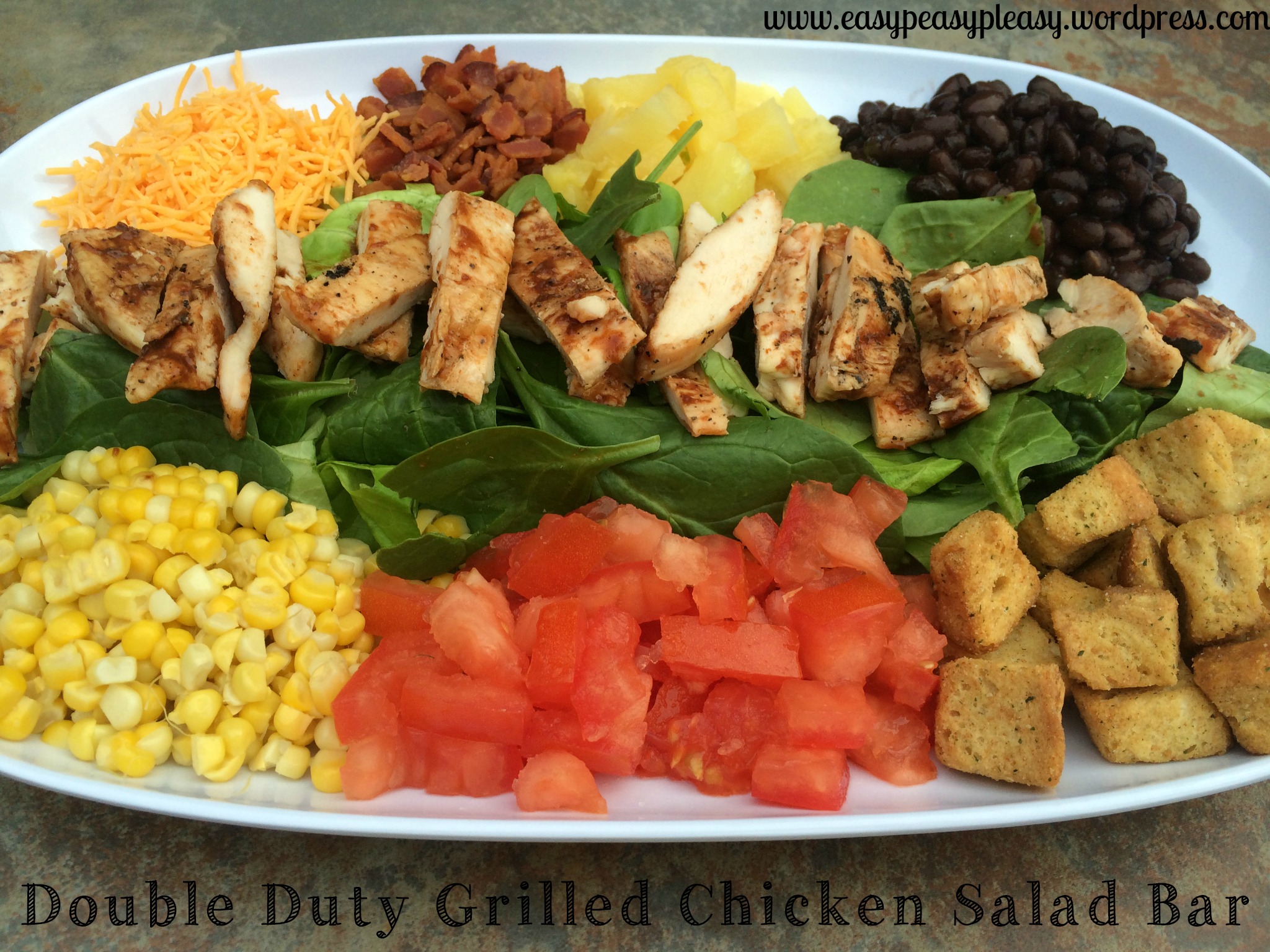 It's a salad bar on a platter. This works great for my family since we all like different toppings. I put the greens down. Then I add the sliced grilled chicken that I grilled earlier in the week. Finally, I add all the different toppings around the outside.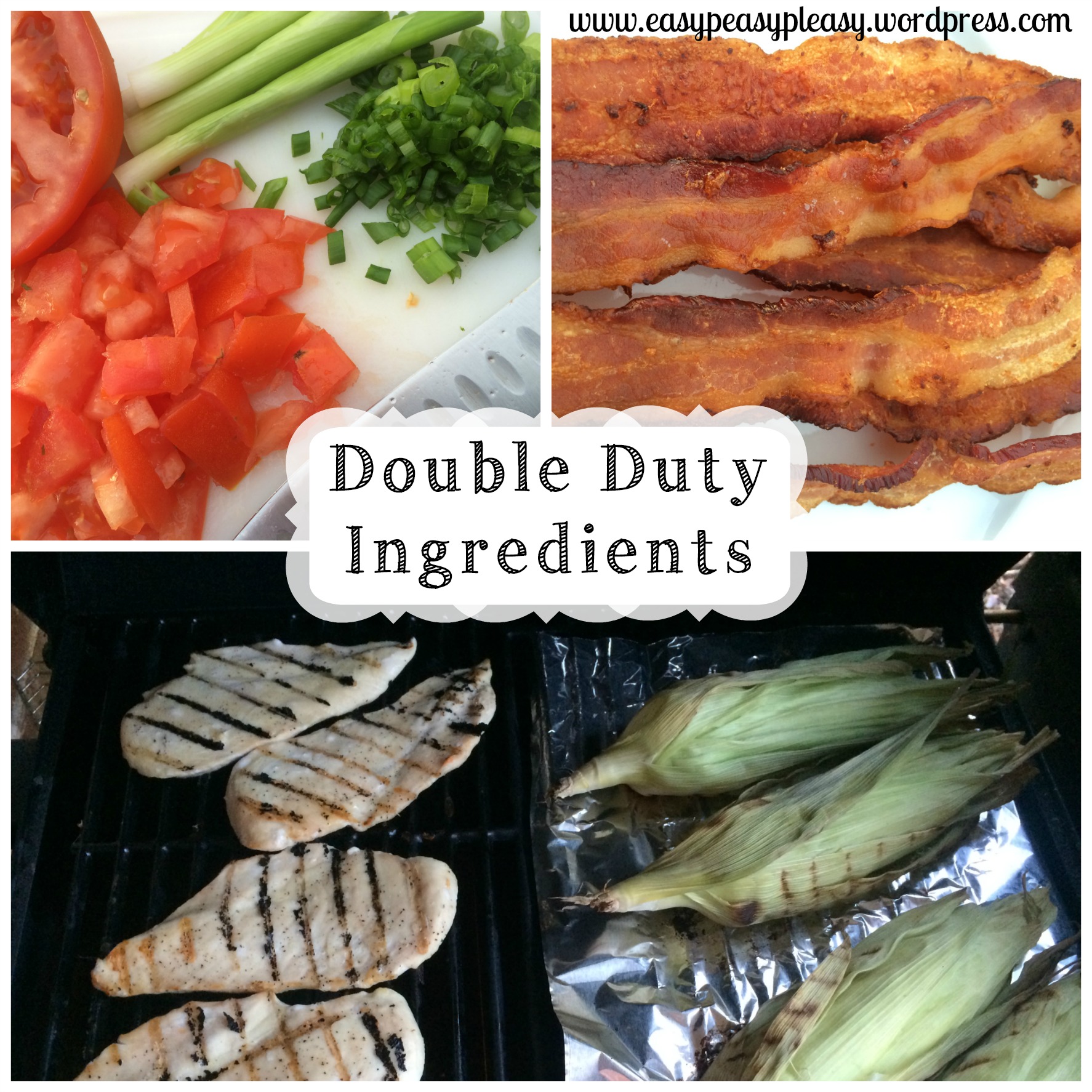 I use the left over corn, tomatoes, green onions, and bacon from earlier in the week to complete this meal.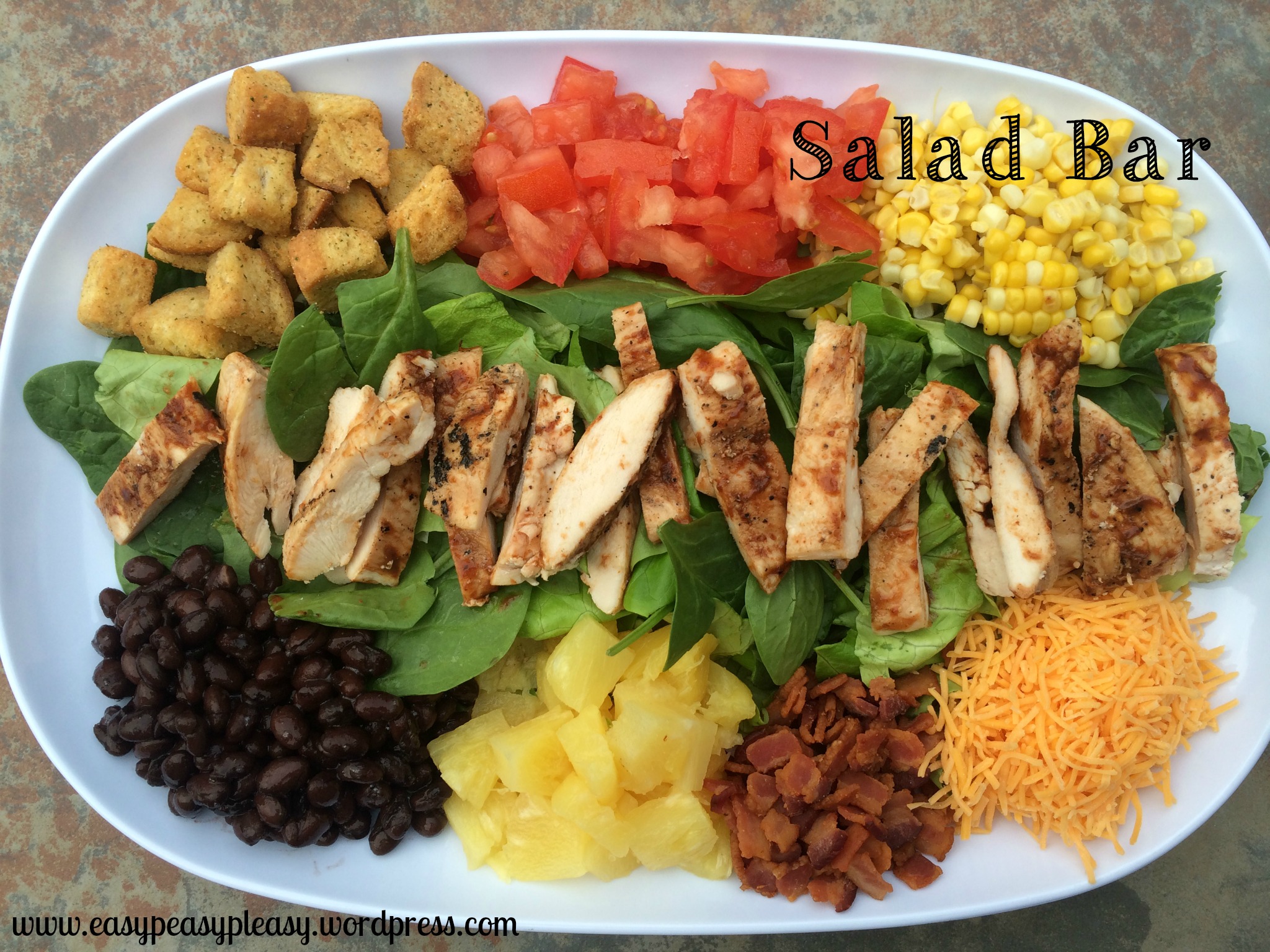 Grilled Chicken Salad Bar
Servings: 4
Difficulty: easy
Ingredients
Spinach, lettuce, mixed greens
Grilled chicken, sliced
toppings of your choosing
Directions
Place the greens of your choosing down the middle of a big platter.
Slice and place chicken over the top of the greens.
Place any other toppings your whole family enjoys over the chicken.
Add additional toppings around the perimeter of the platter so each person can choose what toppings they prefer.
Toppings Suggestions-black beans, grilled corn, bacon, shredded cheese, pineapple, tomatoes, croutons, cauliflower, broccoli, carrots. I usually just use whatever I already have on hand.
No need for sides with this meal! Sides are included!
There you have it! A couple of super easy recipe ideas and you only have to cook once! I hope these recipes can bring some Easy Peasy to your life!