Thank you to Only In Arkansas for sponsoring my Ooey Gooey Pumpkin Spice Bars. #makingbetterhappen All thoughts and opinions are my own.
Pumpkin Spice is the spice of life and these Ooey Gooey Pumpkin Spice Bars are everything. It's the perfect dessert to use your 13×9 casserole dish and to feed a crowd. You can cut the squares as big or small as you need.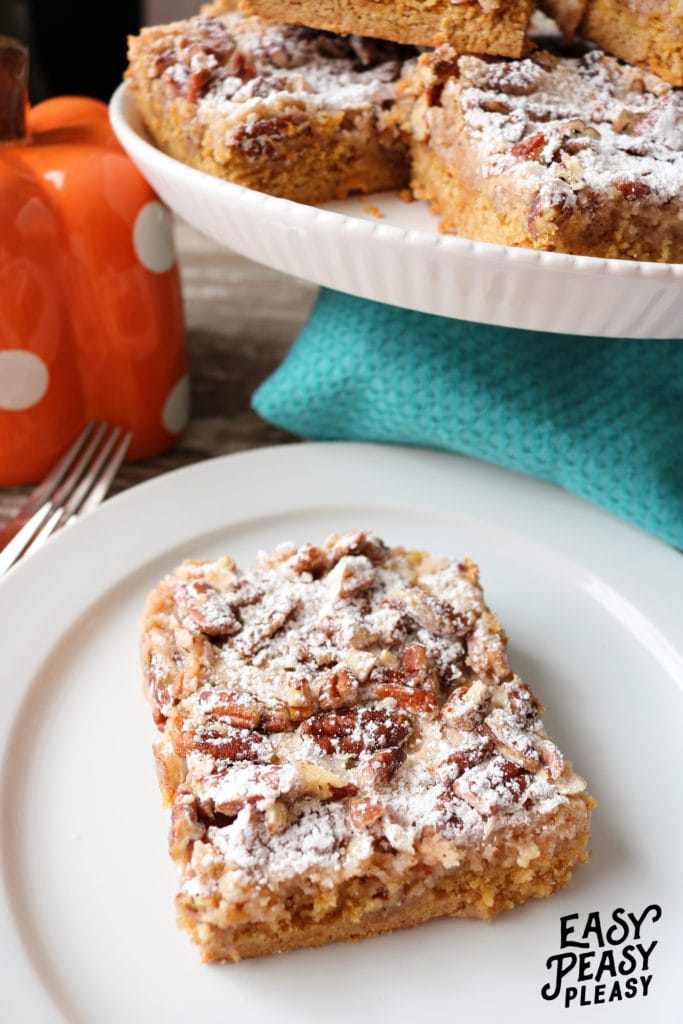 I don't know about you but I can't live without my 13×9 pans and casseroles. I love a 13×9 recipe and this recipe is perfect for all you pumpkin spice lovers.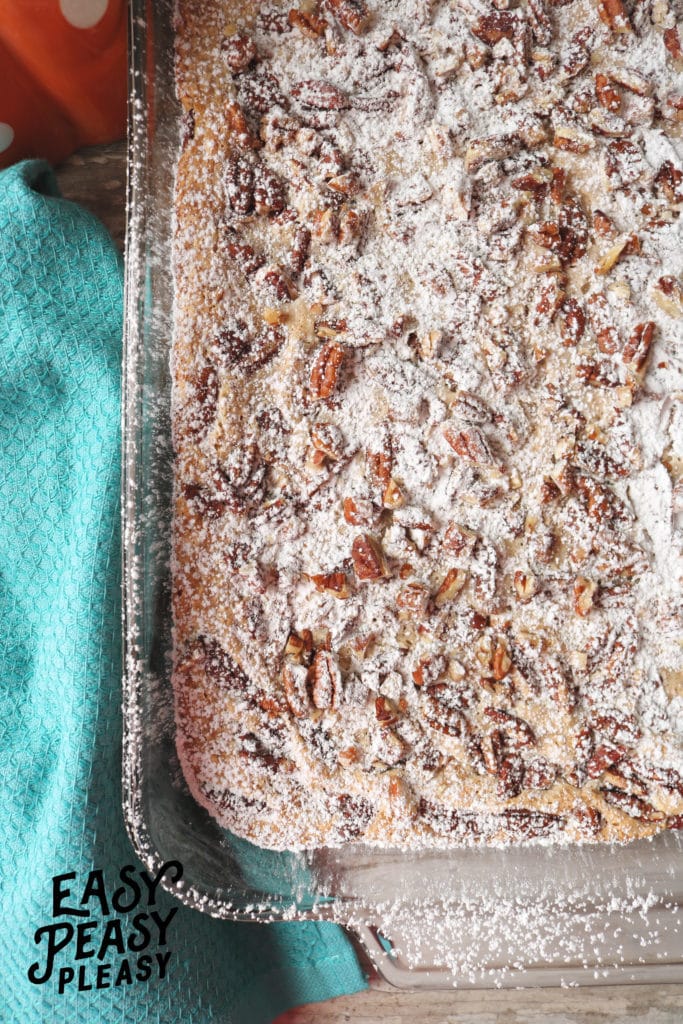 When the kiddo walks through the house and asks, "Mom what are you cooking? It smells so good!" I know I have a winner! Y'all the smell is unbelievable and the taste is even better. It will seem like you lit the most delicious smelling candle while baking these Ooey Gooey Pumpkin Spice Bars. The smell is amazing but the taste is even better.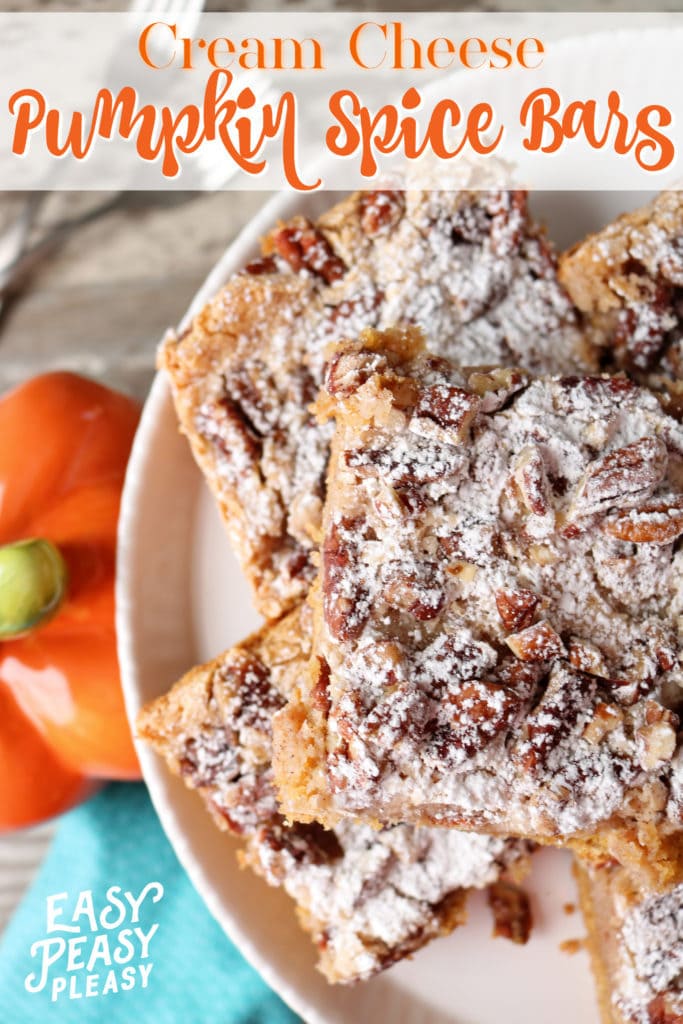 There are only 7 ingredients needed to make this delicious dessert perfect for the holidays. I adapted this recipe from my Ooey Gooey Pecan Cheesecake Bars. I have most of the ingredients on stock and ready to go during Thanksgiving and Christmas. Basically, the only ingredient I need to grab is the cake mix. It's the perfect 13×9 recipe to whip up for potlucks and family gatherings during the holidays.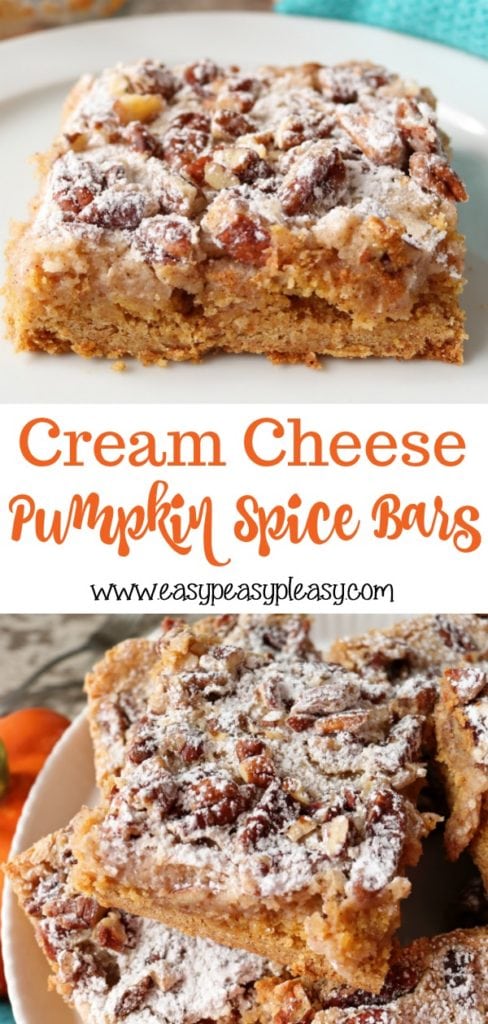 Ingredients Needed…
Pumpkin Cake Mix (spiced cake mix works too)
Butter
Eggs
Cream Cheese
Pumpkin Pie Spice
Powdered Sugar
Pecans
Easy Peasy Pleasy Tips
Heat butter until just melted. Don't mix hot butter directly with eggs. It could scramble your eggs.
Let Pumpkin Spice Bars cool before cutting.
If making this dessert ahead of time, refrigerate (after cooling) until ready to serve.
Refrigerate leftovers.
If you love the flavors of pumpkin spice then you will love this recipe. Check out my full recipe by clicking here.
Subscribe to Blog via Email