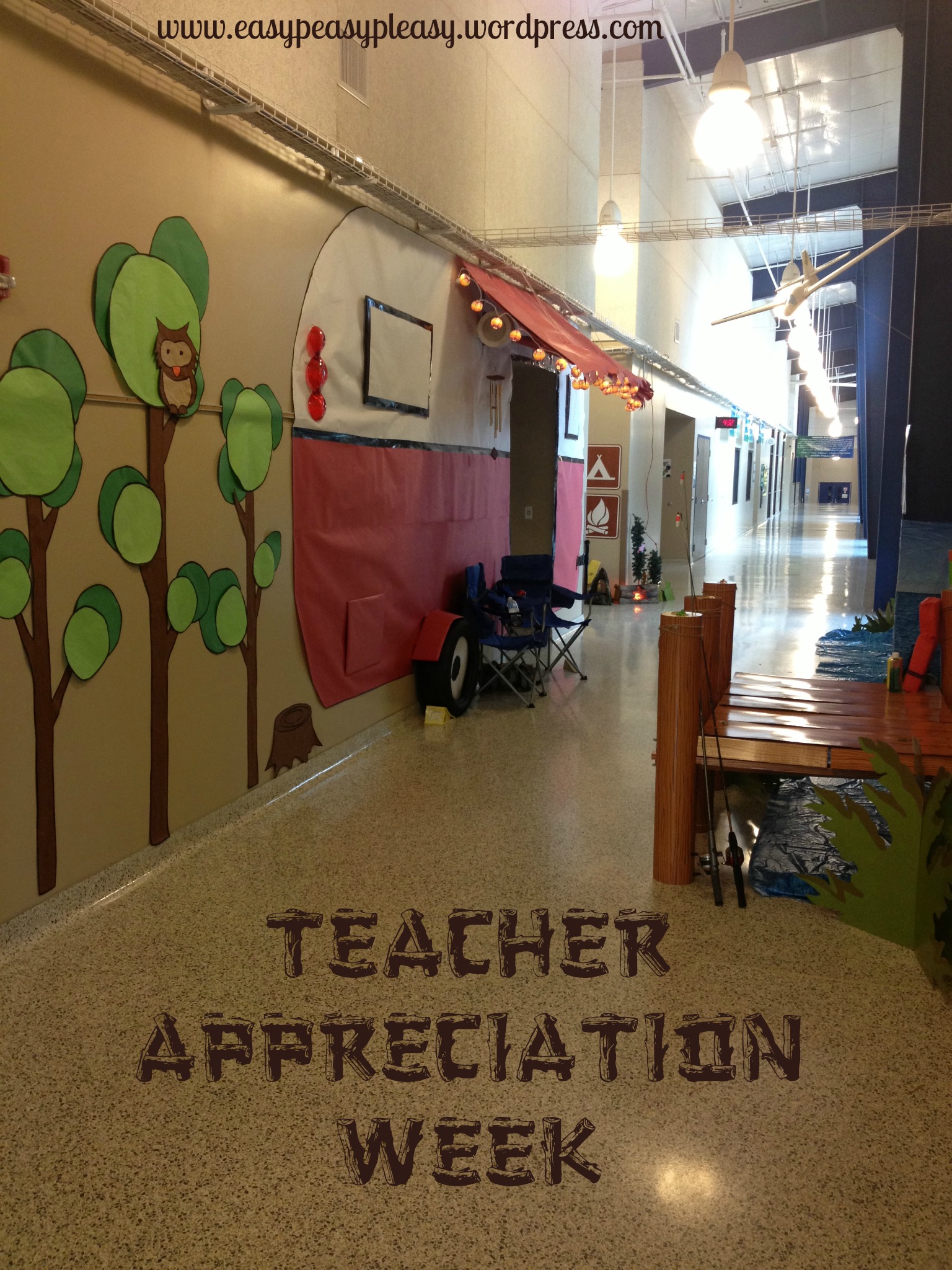 The PTO set out RVing! They cruised around town and this is what they were seeing!
Massages, gift cards, and food galore…so many places for you to explore!
They collected donations for you to see. It's a surprise what gift you will receive!
Listen up, cause there are plenty. No staff member will go without any!
Students help your teachers cheer, for the list of prizes you're about to hear!
That was PTO's kickoff for Teacher Appreciation Week! Our school has a news broadcast every morning called Wake Up Wooster. During teacher appreciation week we had a PTO announcement to the staff everyday. During this announcement we gave away prizes to every staff member. I bet you're thinking that cost would add up to be a lot of money spent. Not in this case. We worked our tails off and got every single item donated! I really never imagined we would get 50 items. The key is not to be shy. Just go for it. We asked local businesses and even sent an email to parents. What's the worst that can happen? They say no or they aren't interested, you thank them for their time and move on. We ended up getting way more than 50 items and actually had to bundle gifts. We got everything from oil changes, golf at the Country Club, facials, weekend getaways, gift baskets, to restaurant gift cards. I thought this idea worked out beautifully! PTO didn't have to fork over money for individual teacher gifts and we were able to spend the money on bigger more substantial items.
Wait wait wait…I may be getting a little ahead of myself here. Let's start from the beginning and let me set the mood! When the teachers came through the door, the first thing they were hit with was the sound of crickets and insects. It was the sounds you would hear while sitting next to the lake, or in your back yard during the summer, or in this case, a campsite. As they begin to look around they see trees and wildlife.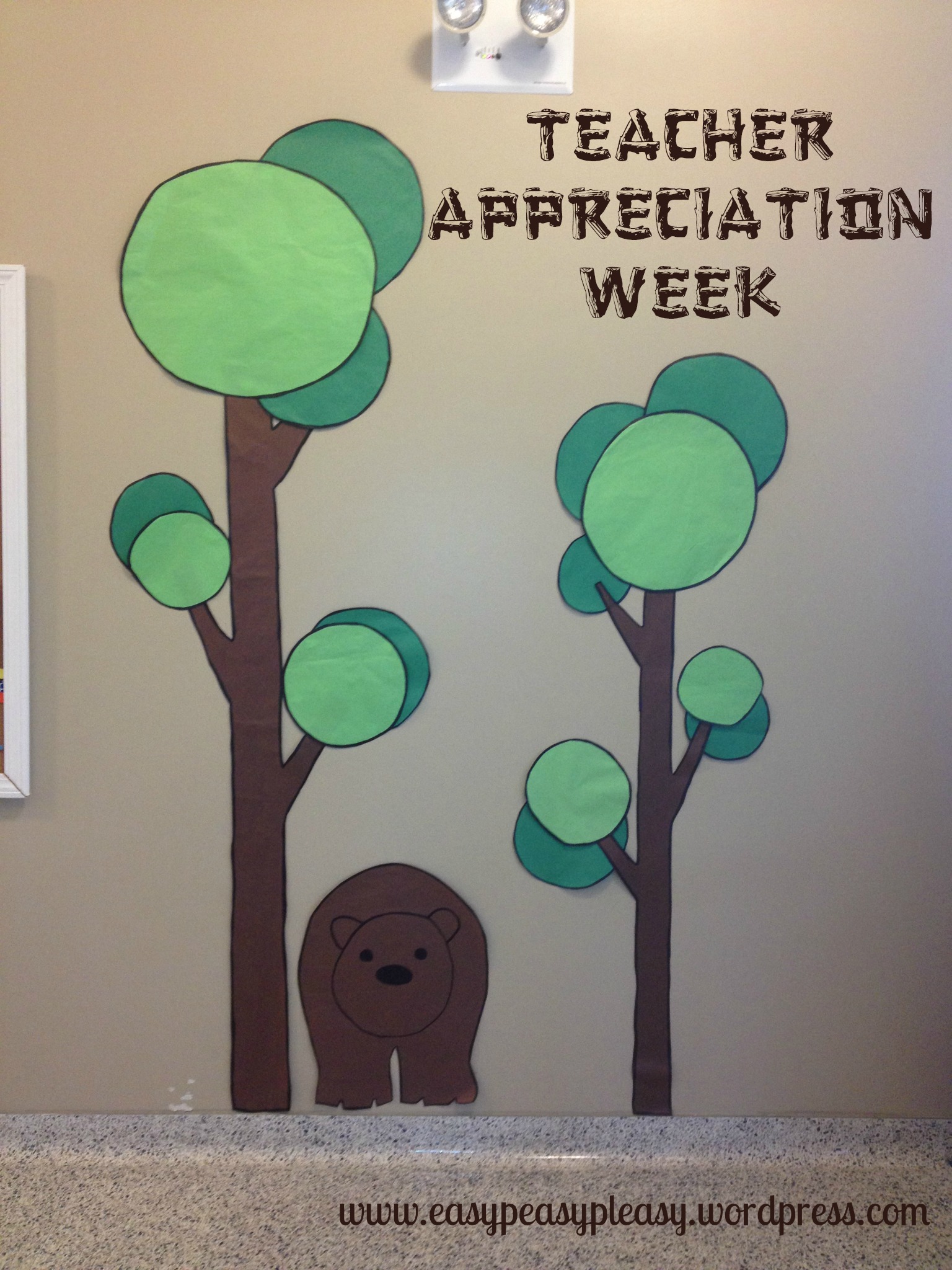 Then they see a boat dock, deep blue water, and fishing poles.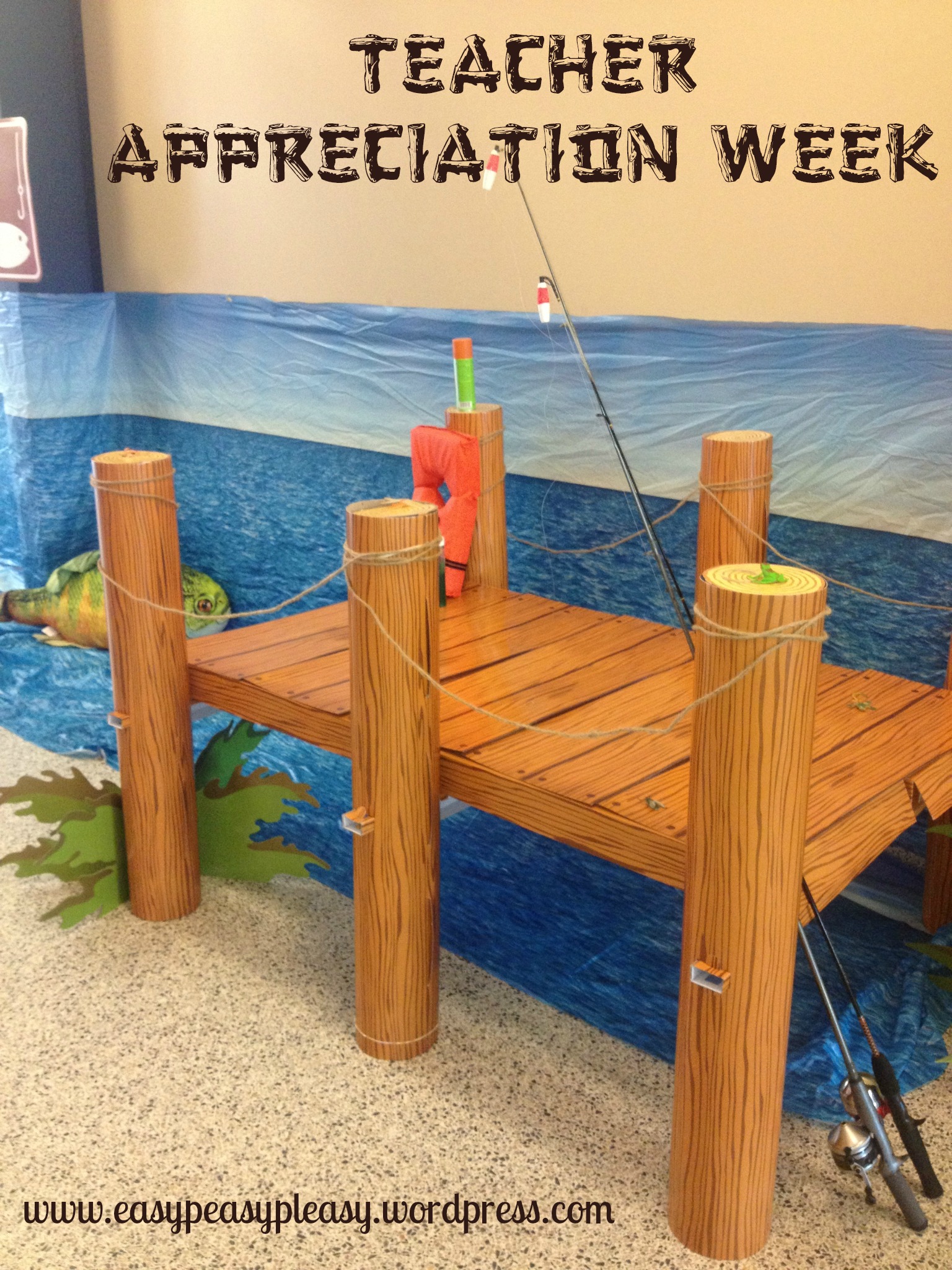 Now they see an airplane pulling a banner….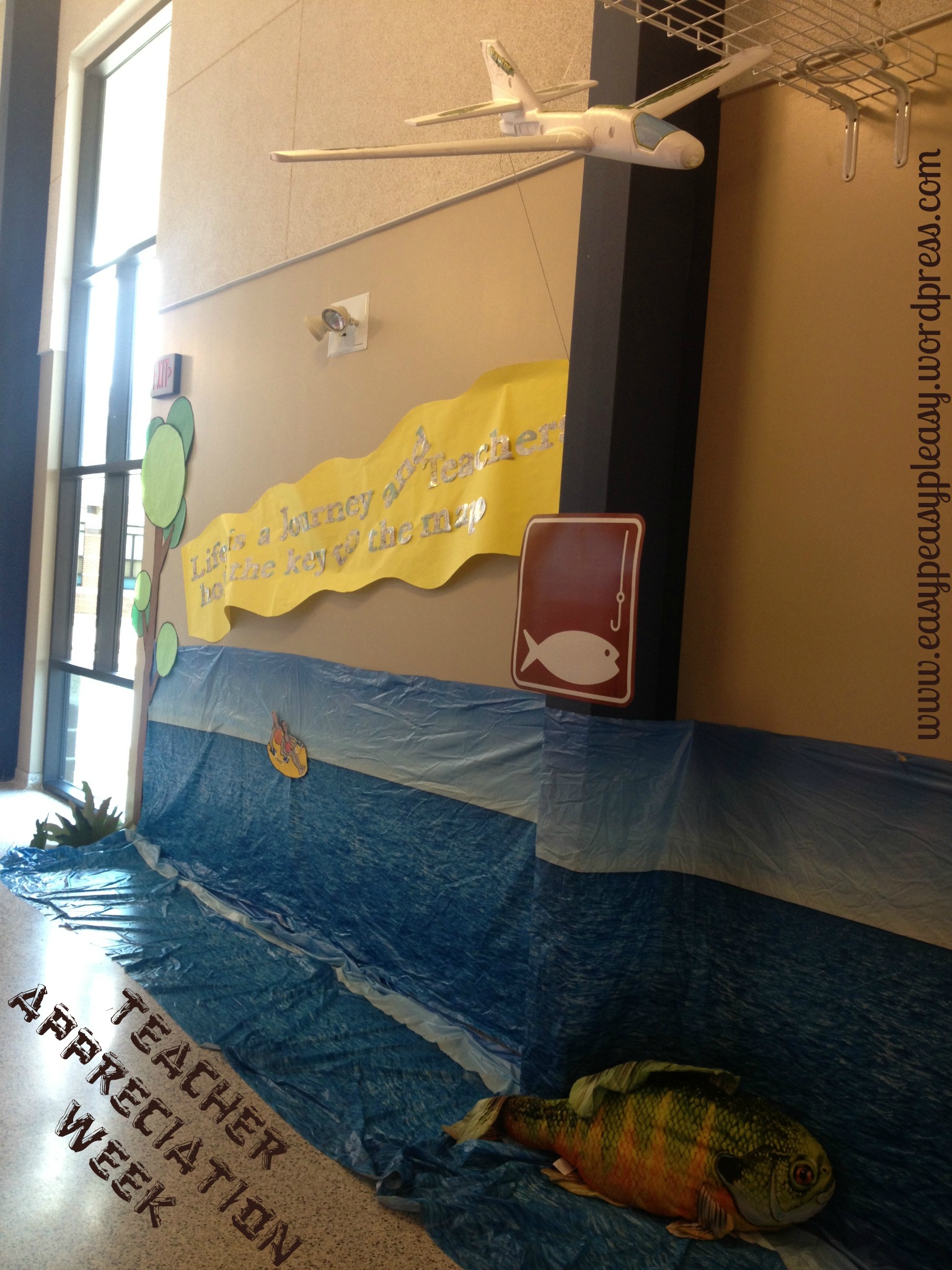 A little turn of the head and a camper is in their sights!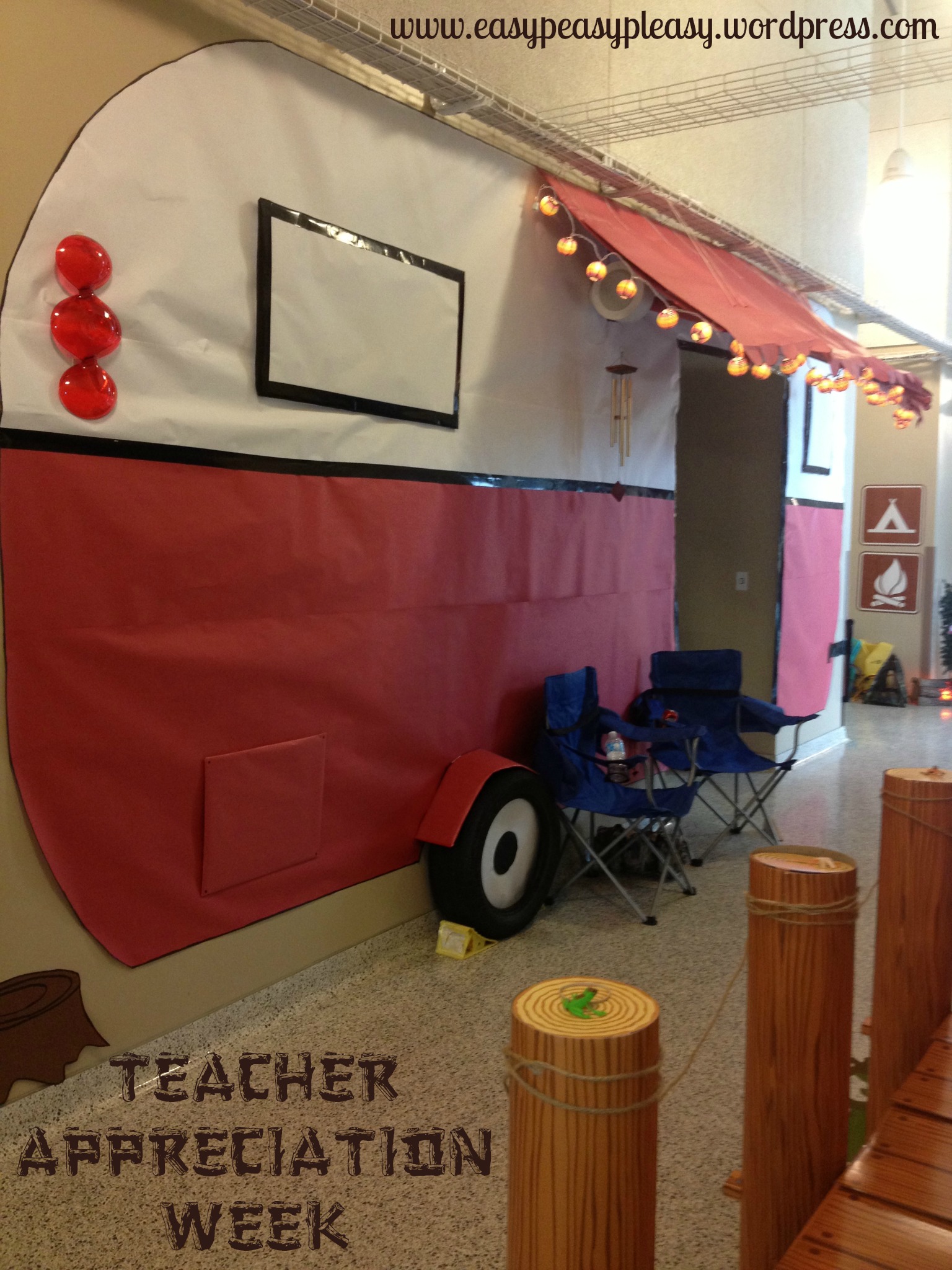 Go ahead and settle in, there's lots of ideas for you to spin. I've got tons of details for you to see, the teachers will know they hold the key! Get ready for a lot of fun, let me show you how Wooster PTO gets it done!
Ok, for some reason when I do anything school related, I feel like I have to bust a rhyme! I'm gonna get down to business now and give you the ins and outs of this amazing Teacher Appreciation Week! I think I will do it picture and description style.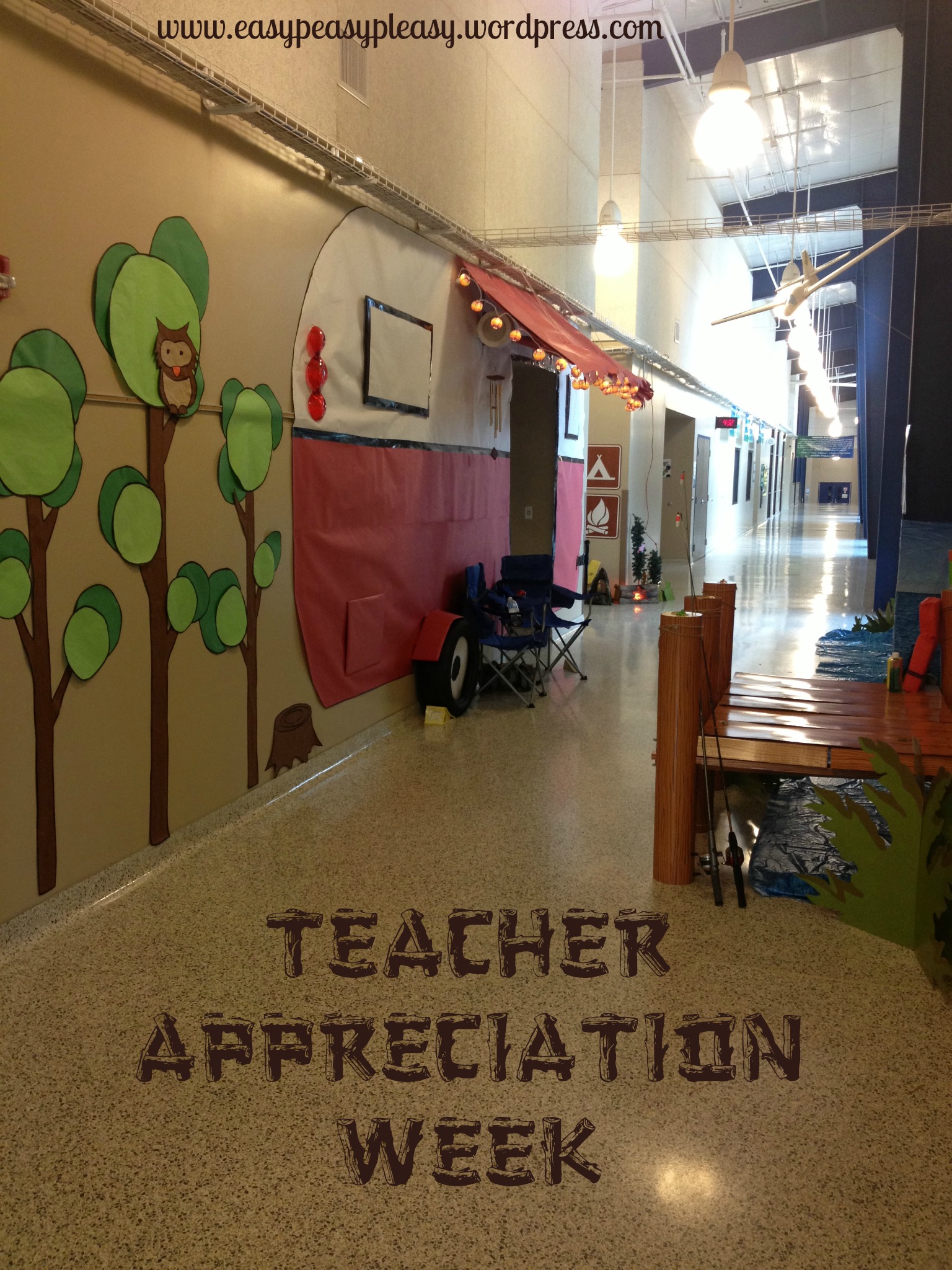 This is an overall view of the hallway. Are you wondering why we went with a camping theme yet? A local college wanted to provide grilled hamburgers and hot dogs for lunch on the first day of Teacher Appreciation Week. No way would we turn that down! Therefore we needed a theme that could work with all American food. The PTO provided a catfish lunch with all the fixings on Tuesday, a down home breakfast on Wednesday, and a good old fashioned BBQ lunch on Thursday. The principles provided a fried chicken lunch on Friday. Since our PTO only had to cover 3 meals, we decided to have it catered in from Bob's Grill and Whole Hog Cafe. They gave us great discounts and it was very affordable.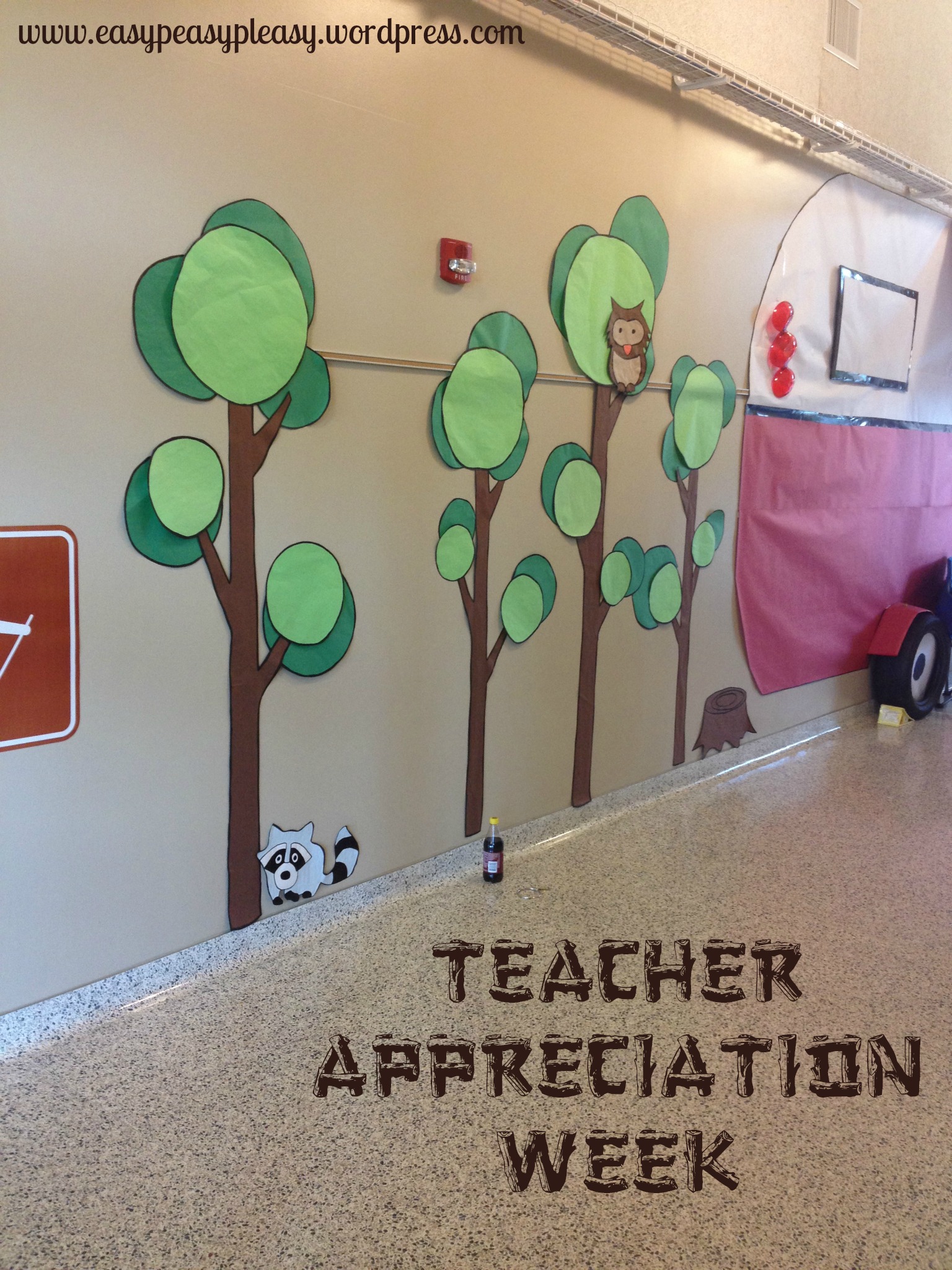 The trees and wildlife were blown up from worksheets with an overhead projector. We drew the images on those giant rolls of paper the school workroom always keeps stocked. Then we cut out and outlined the images with giant sharpies. We had a CD with nature sounds playing in the background to give the ambiance of being outdoors.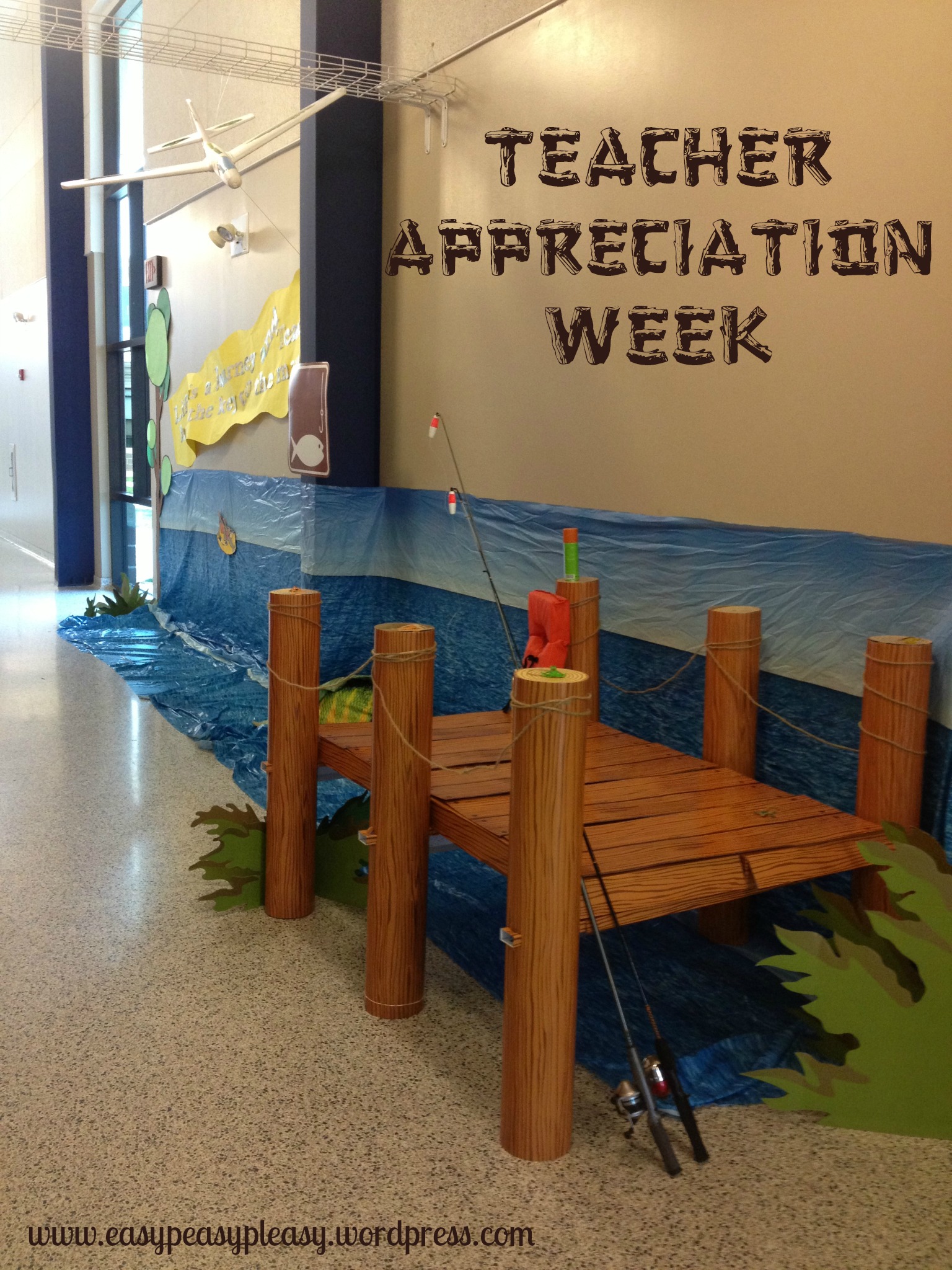 The boat dock and greenery were purchased from Oriental Trading. The water was leftover from a previous year luau. It was so much fun setting up all the props with the girls. So many details came as we were putting everything together and someone would say I've can go home and get fishing poles, I have an airplane, I have a tire, I have wheel chocks. It was amazing to see the idea bloom and grow! Great minds!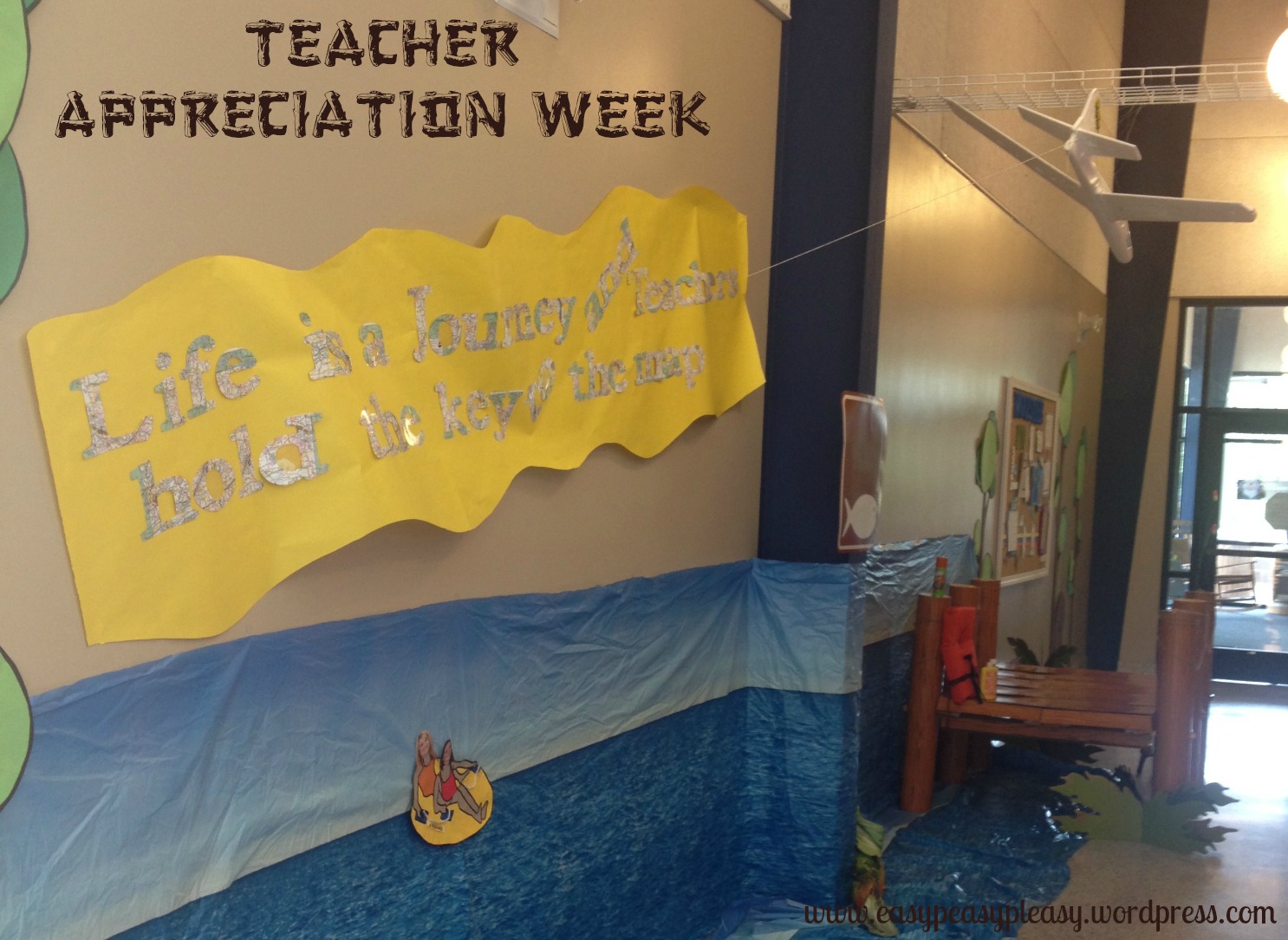 Check out the airplane pulling the banner. The banner says "Life is a Journey and Teachers hold the key to the map". I used my Cricut to cut out the letters on our state maps. I did a little research and found out our state will give and mail for free as many maps as you need. That was a great find! The theme is still evolving…camping, all American food, and road maps. Did you notice the raft? We cut out pictures of the principles heads and pasted them on to the image.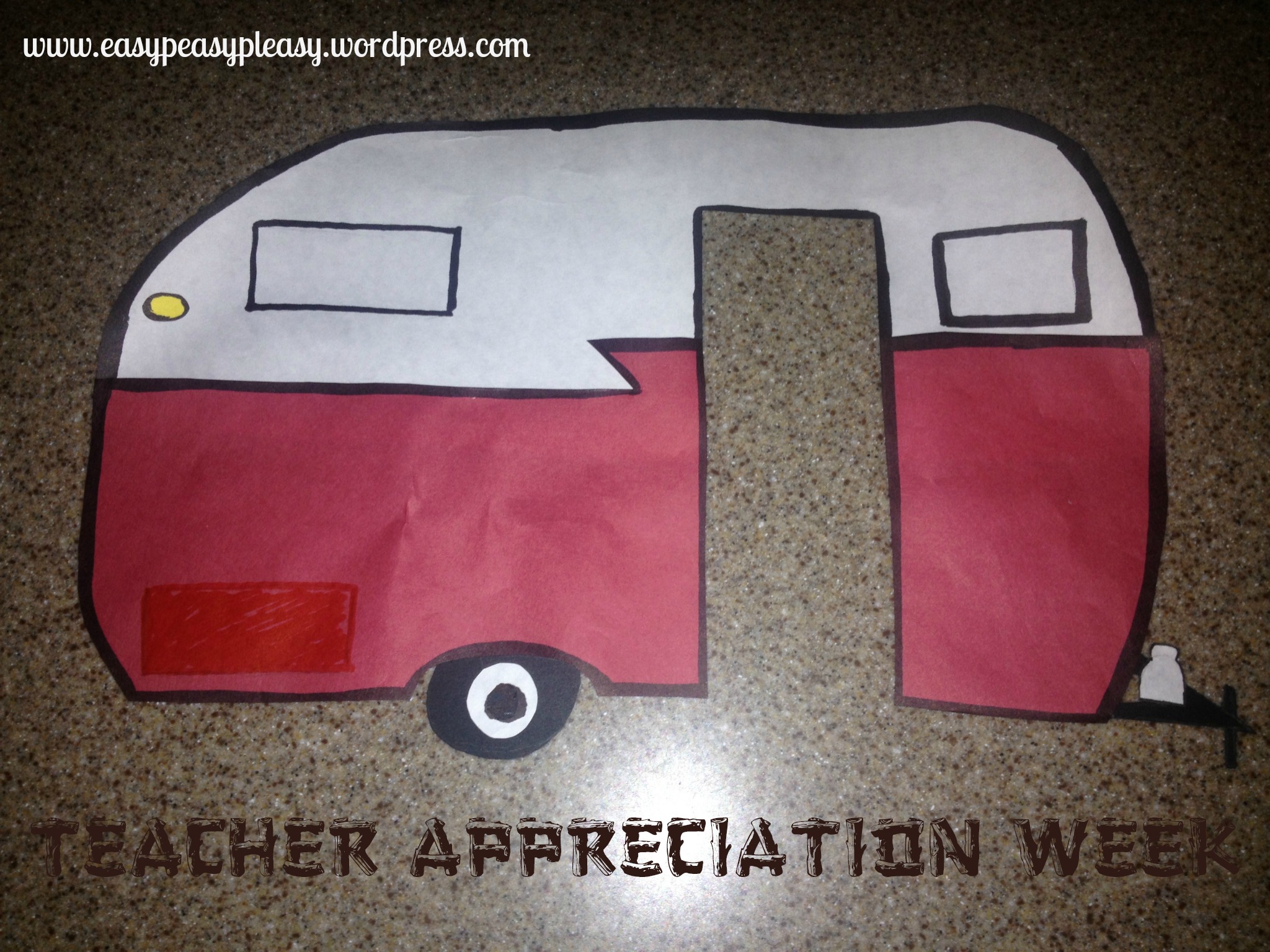 We wanted something that we could make really big and would have a door that we could place in the same spot as the teacher's lounge door. If you know me, I had to plan it out miniature style first. The camper as a first draft.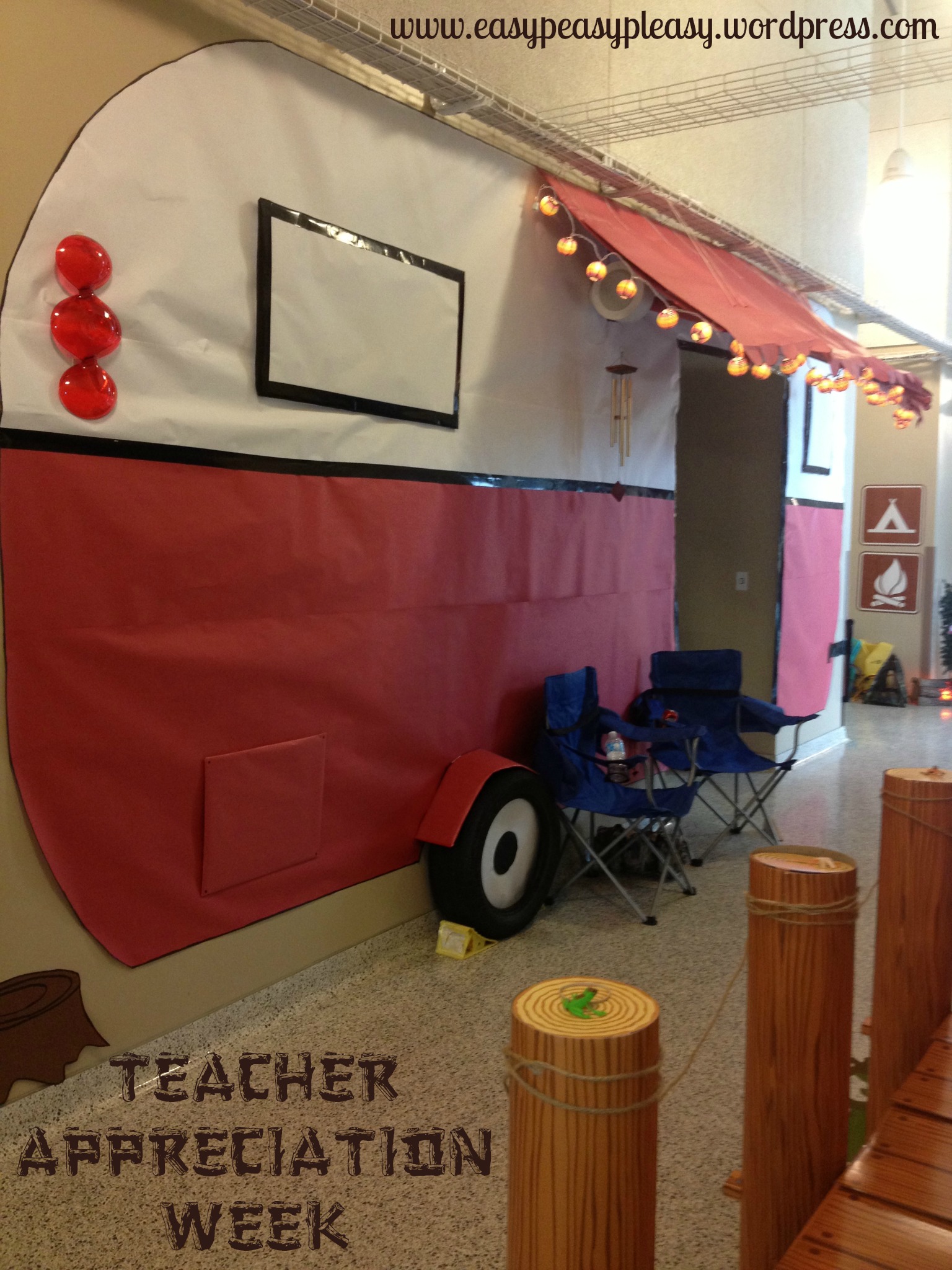 We layered and taped paper together on the backside and free handed the shape of the camper. We outlined it with sharpies and used black duct tape to add the details. We used a real tire and added some chairs for affect. The light on the back of the camper is a serving dish I found in the lounge. Hey, whatever works! No camper is complete without a canopy!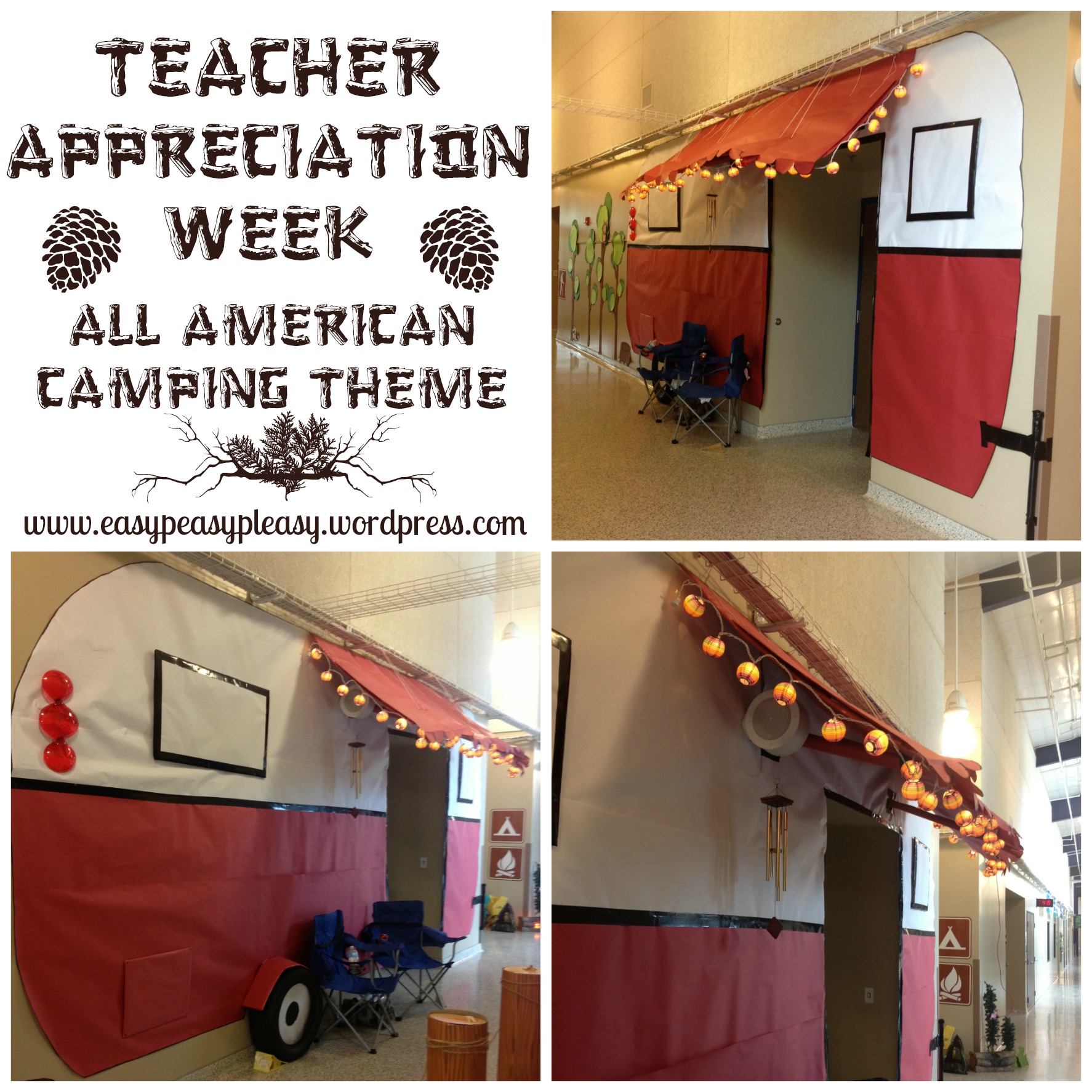 You can see we actually hooked up lantern lights to the canopy.
Now that you've seen the hallway, let's venture through the door.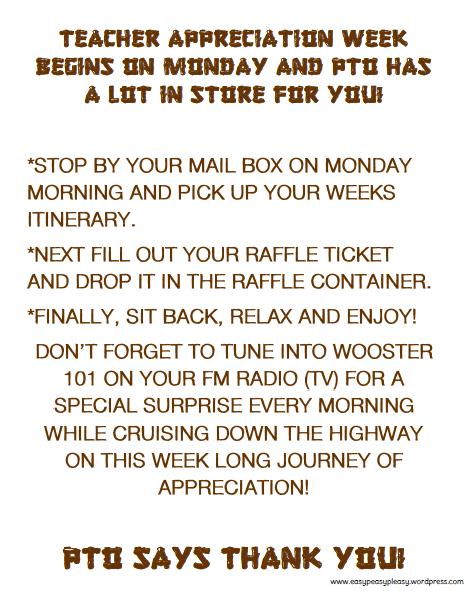 This form was posted on the door and sent by email to all the teachers the week before.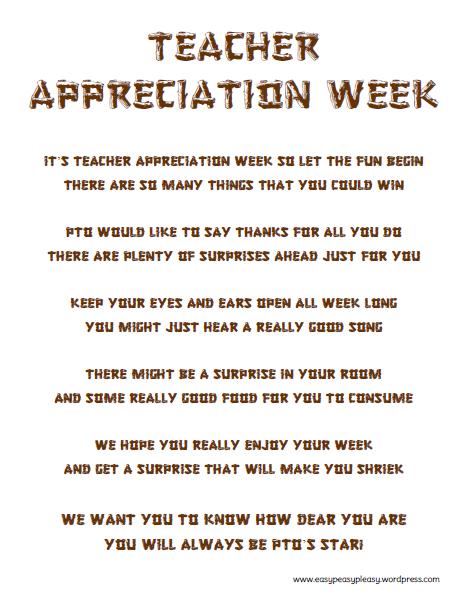 And this form was in all the teacher's mailboxes.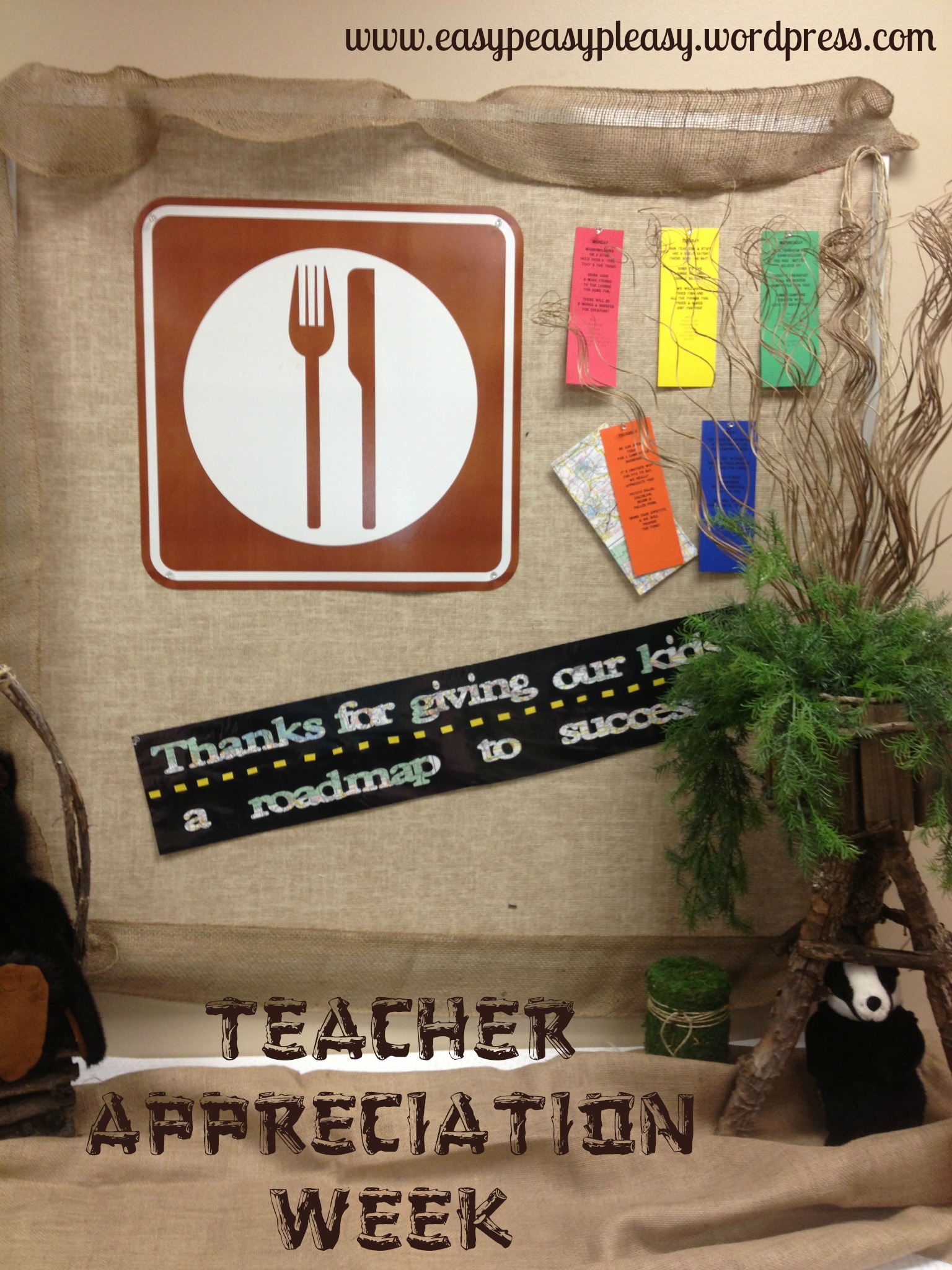 On one wall in the teacher's lounge we pinned up the weeks itinerary, the same one that was put in their mailbox. Each day was printed on a different sheet and all placed in a map that was folded and stapled into a pocket. The map pocket also held a raffle ticket to be filled out. To continue the theme, we made a sign once again using maps for the lettering.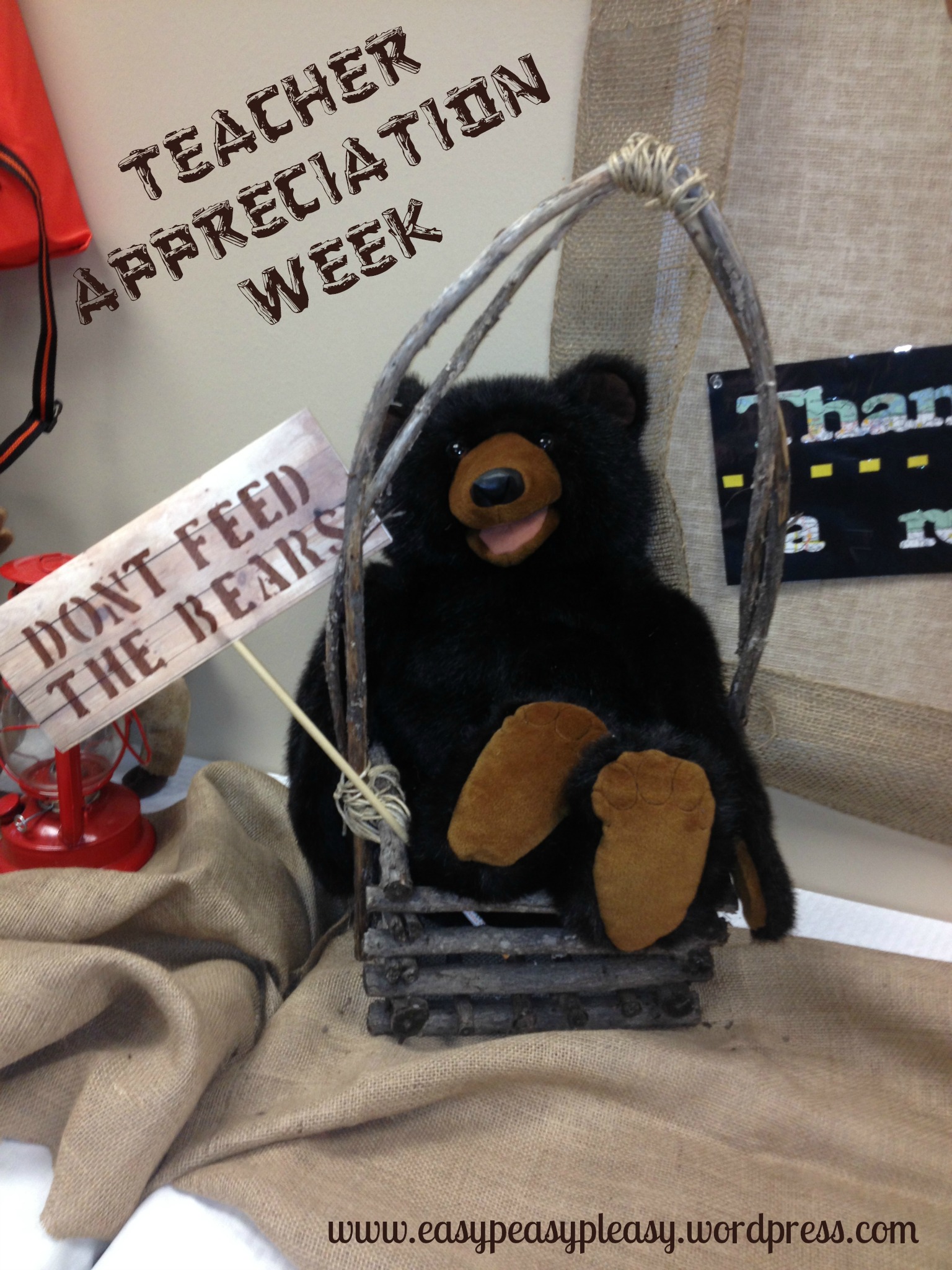 Cute little details to up the camping experience.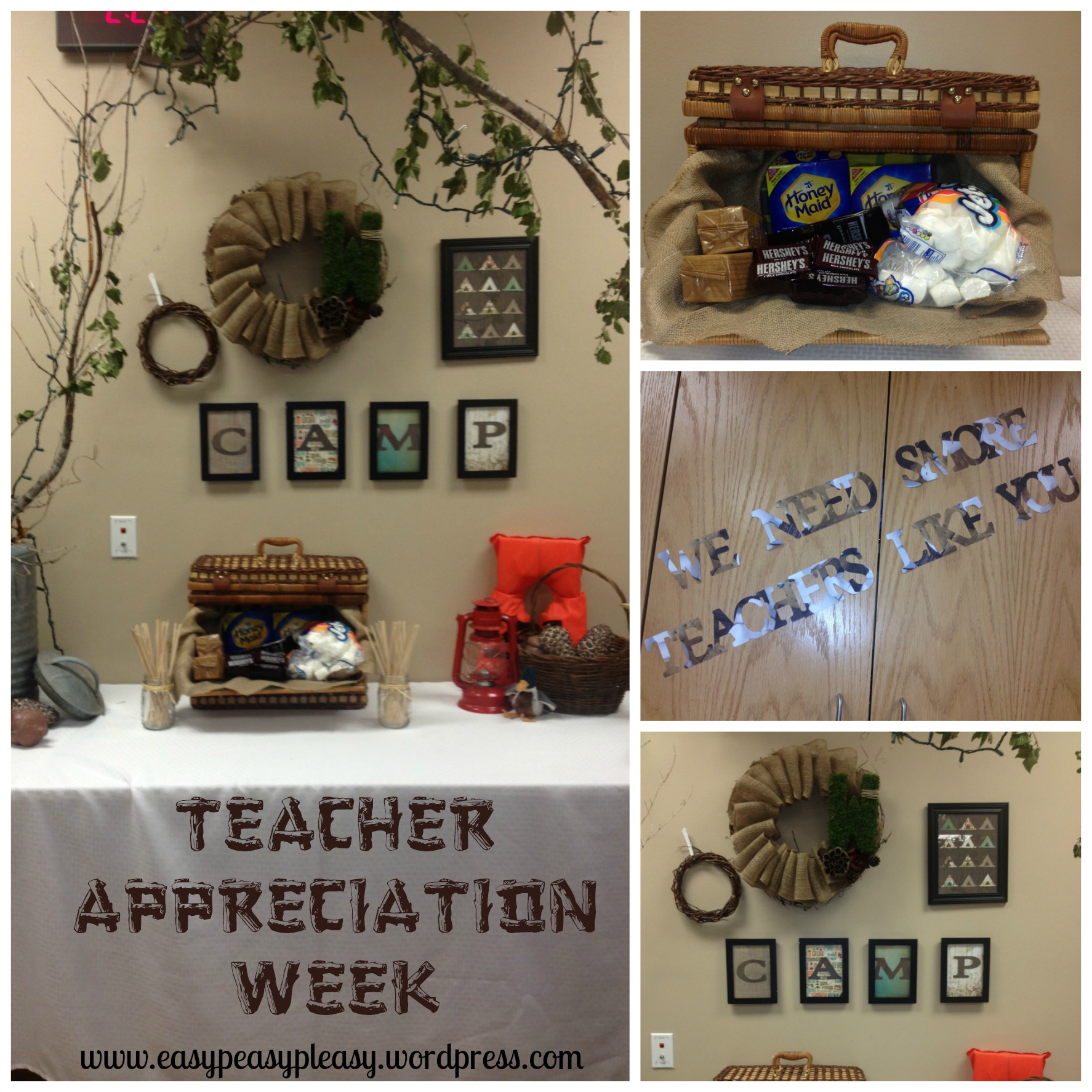 You can't go camping without s'mores! We set up one table with a picnic basket full of s'mores ingredients. We took little terracotta pots and filled them with gravel and Sternos. The teachers could light a Sterno and roast a marshmallow right at their table. The wall decor was an easy swap out since the teacher's lounge had been decorated in the same style through the year. Check out the winter theme, valentine theme, and what's to come for the swap outs.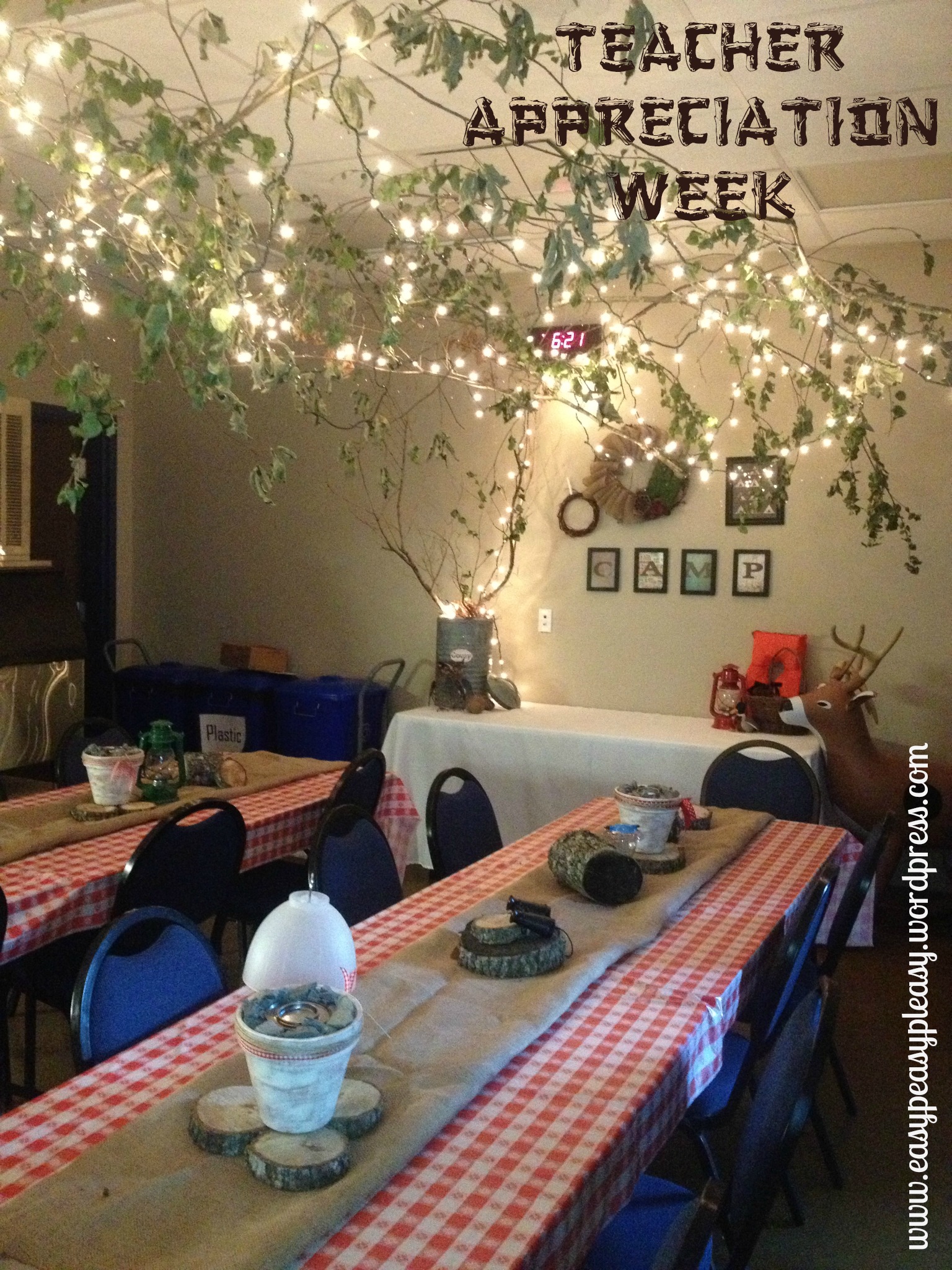 In this overview shot of the room, you can see the pots with the Sternos. We hung branches with lights from the ceiling to give the illusion of the campgrounds. We used plastic tablecloths layered with burlap and wood disks.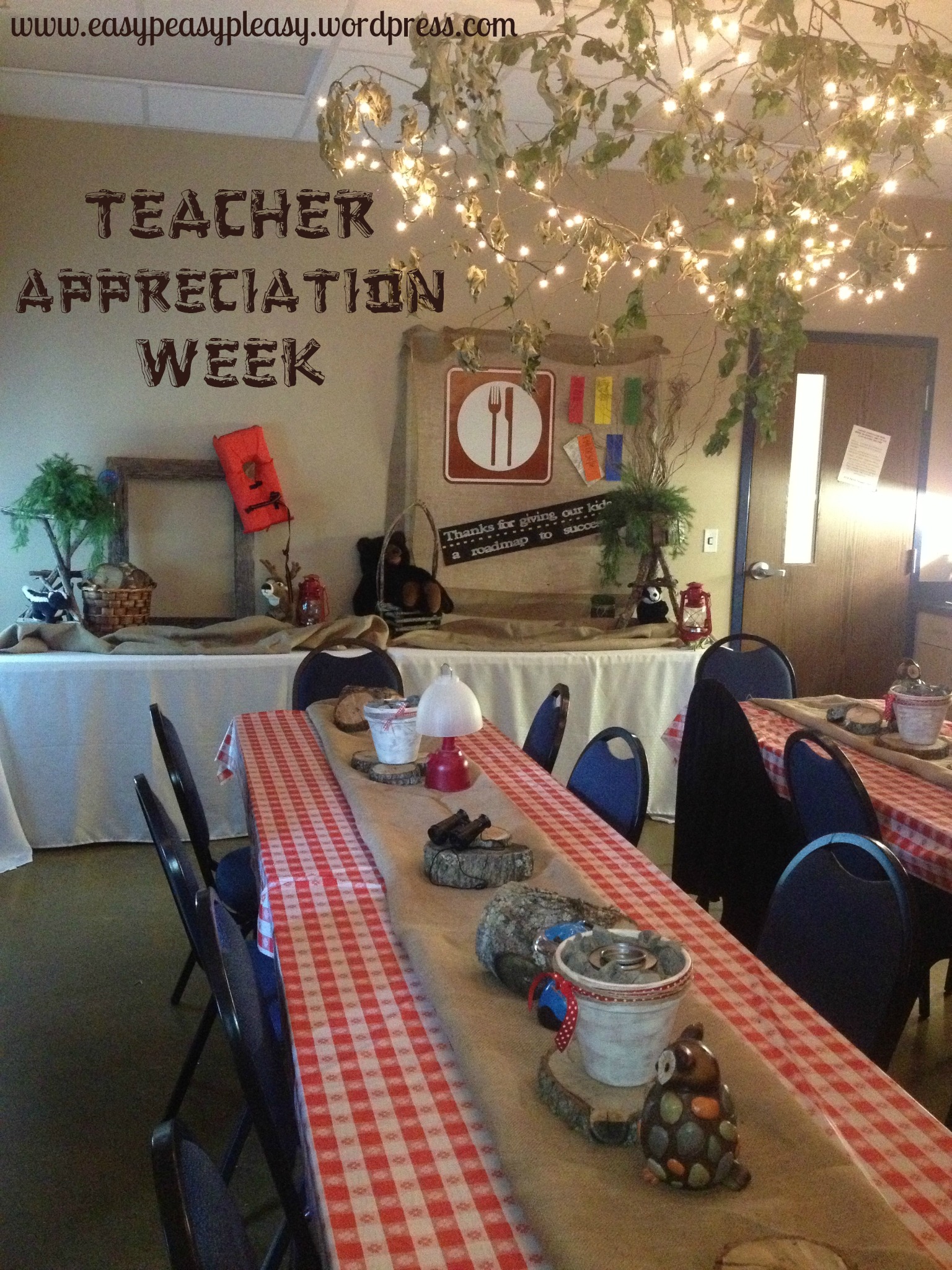 Here's a shot from a different angle. The tables at the end are set up for food that will be served throughout the week.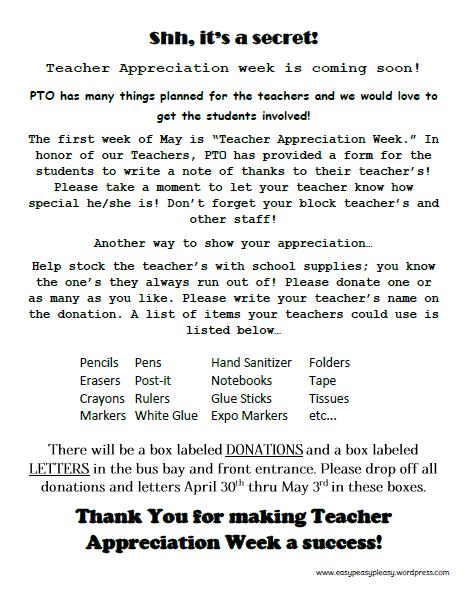 This form was sent home with the students and we received a lot of donated supplies and letters.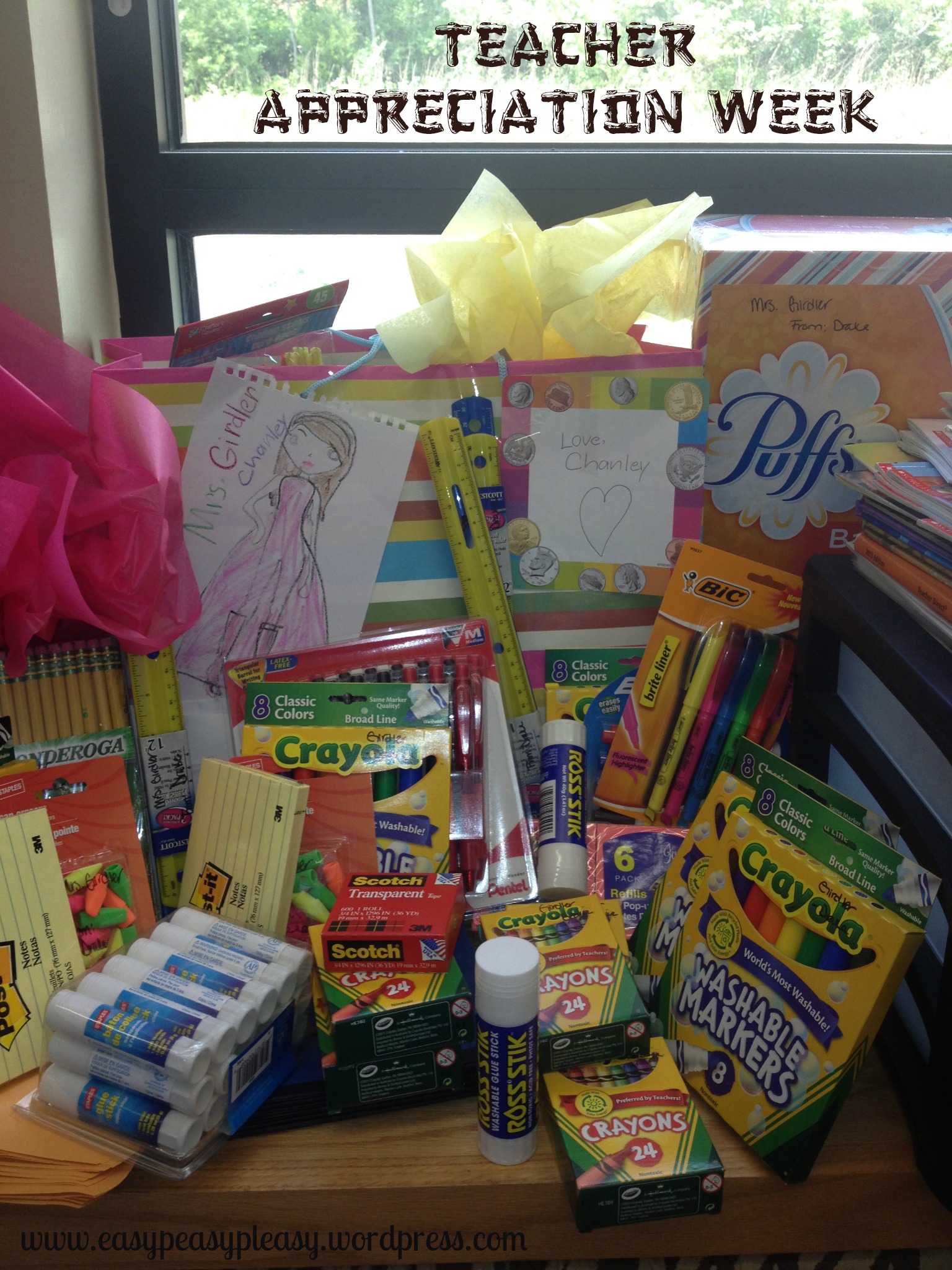 We set the supplies up in each teacher's room so they would have a surprise waiting on them.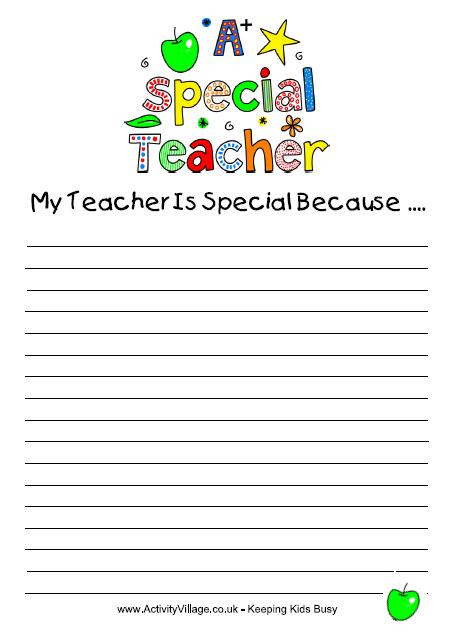 I found this printable at Activity Village. This is the writing prompt we sent home with the students to express their appreciation for their teachers.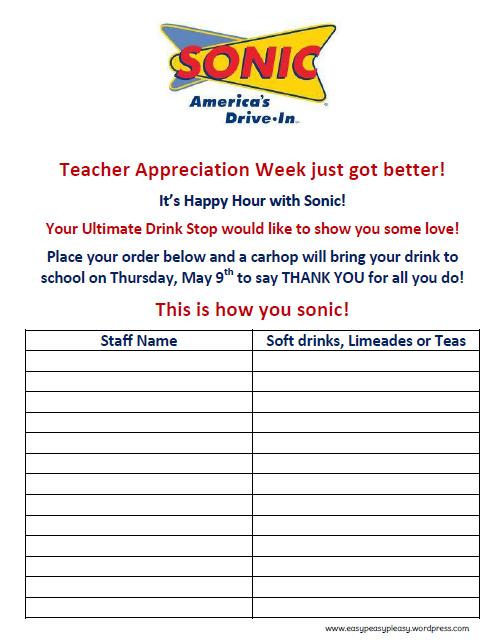 One of our PTO moms scored a great donation from Sonic! I made this form and posted it in the Teacher's Lounge. Sonic donated and delivered 50 large drinks to our school! Who doesn't love a drink from Sonic! We waited to spring this surprise on the teachers midweek. ***Click on the form below to for a printable version that you can just fill in the date.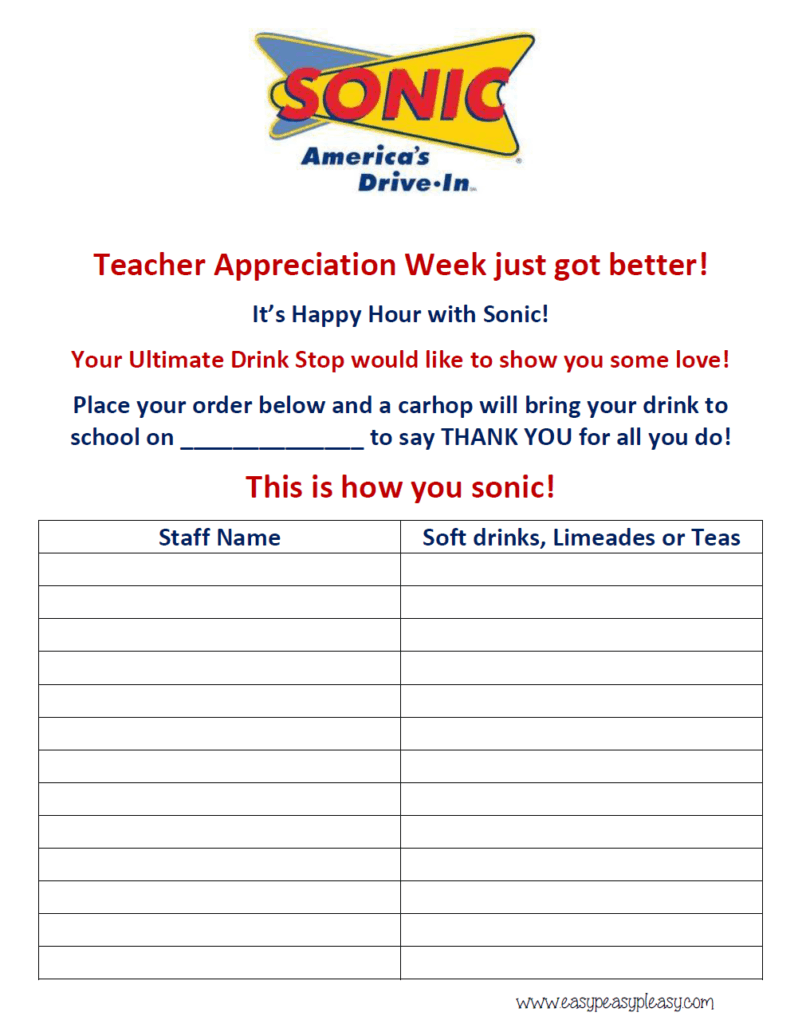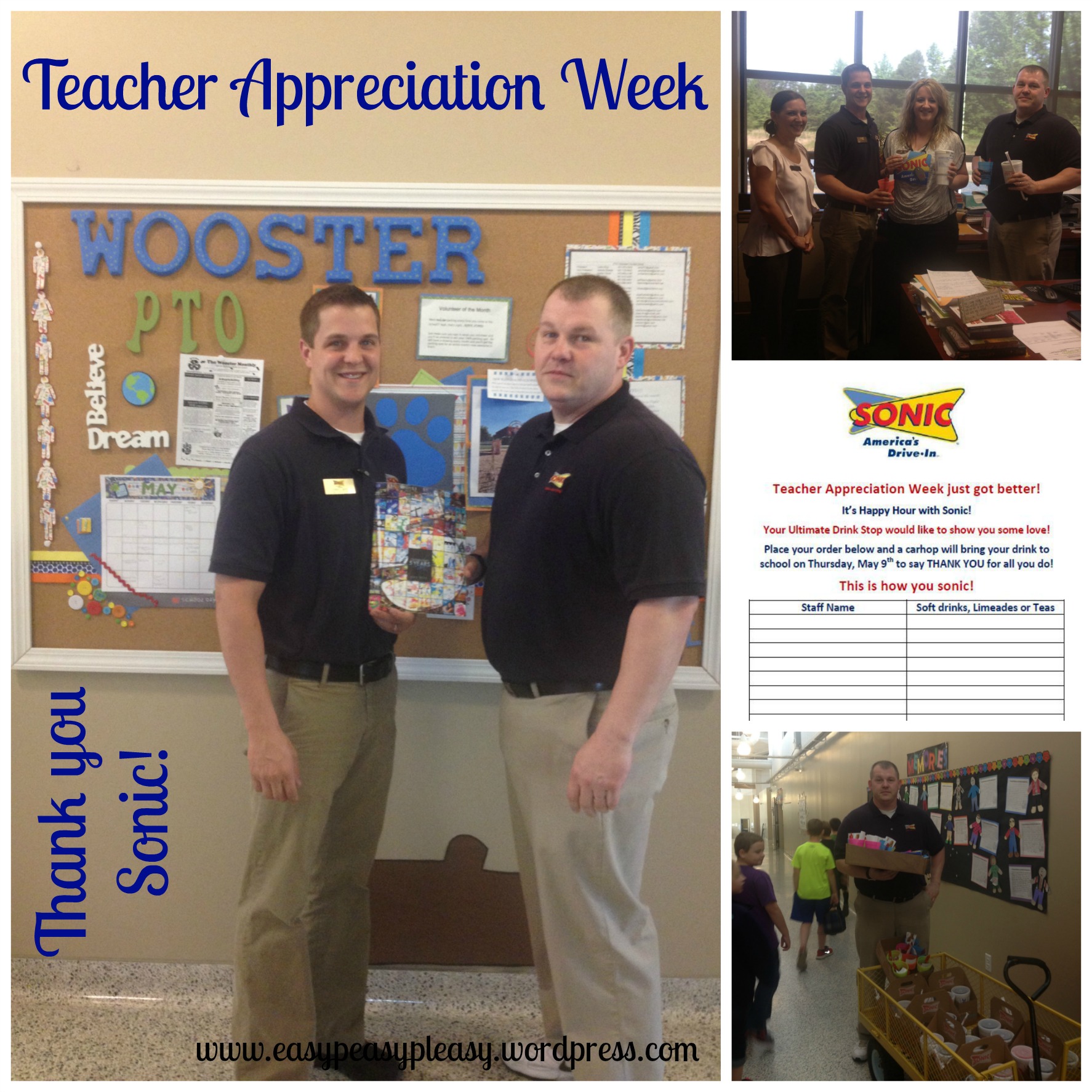 Teacher Appreciation Week is one of my favorite weeks during the whole school year! It's so much fun to bring a little joy to the people who work tirelessly to educate and help raise our children! I hope this post can give some inspiration to all you PTO folks out there to make Teacher Appreciation Week a great one! I must give a huge shout out and say thanks to all the PTO members who helped make this week a success!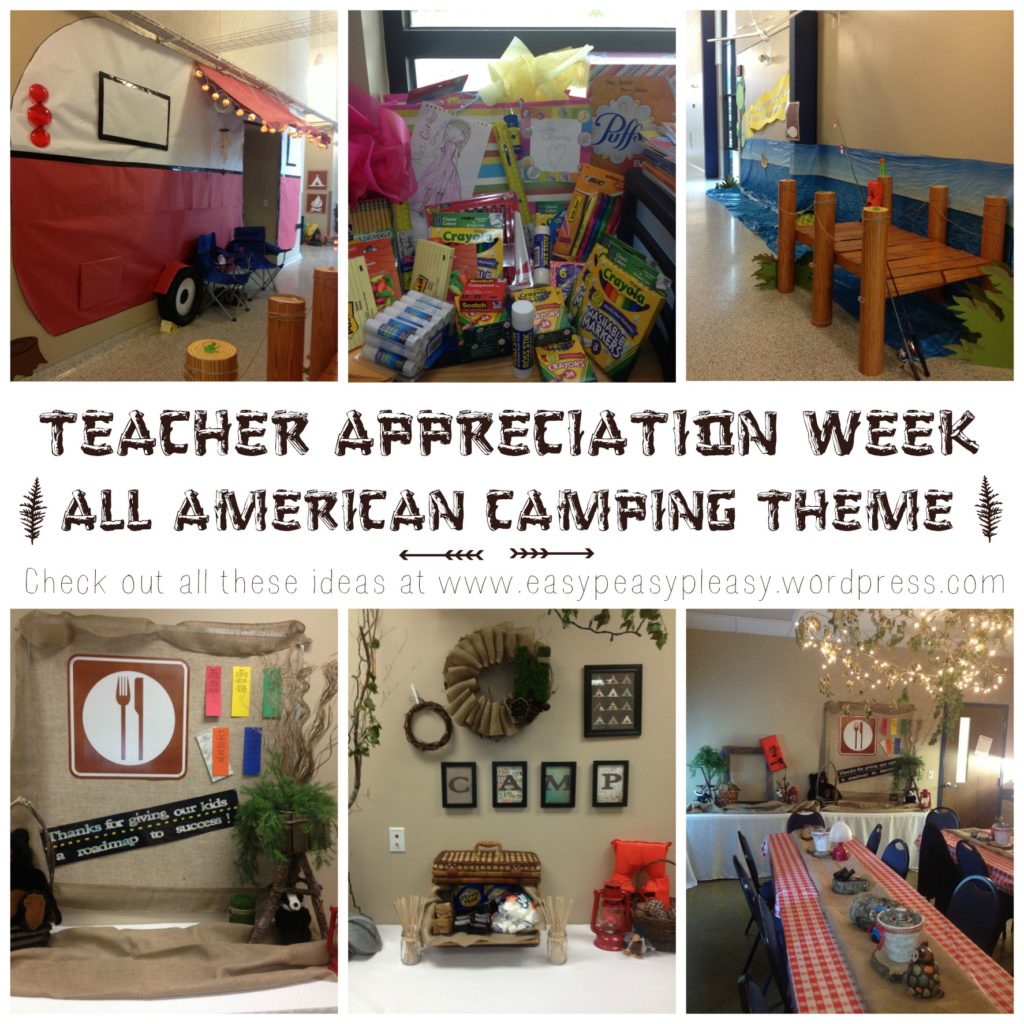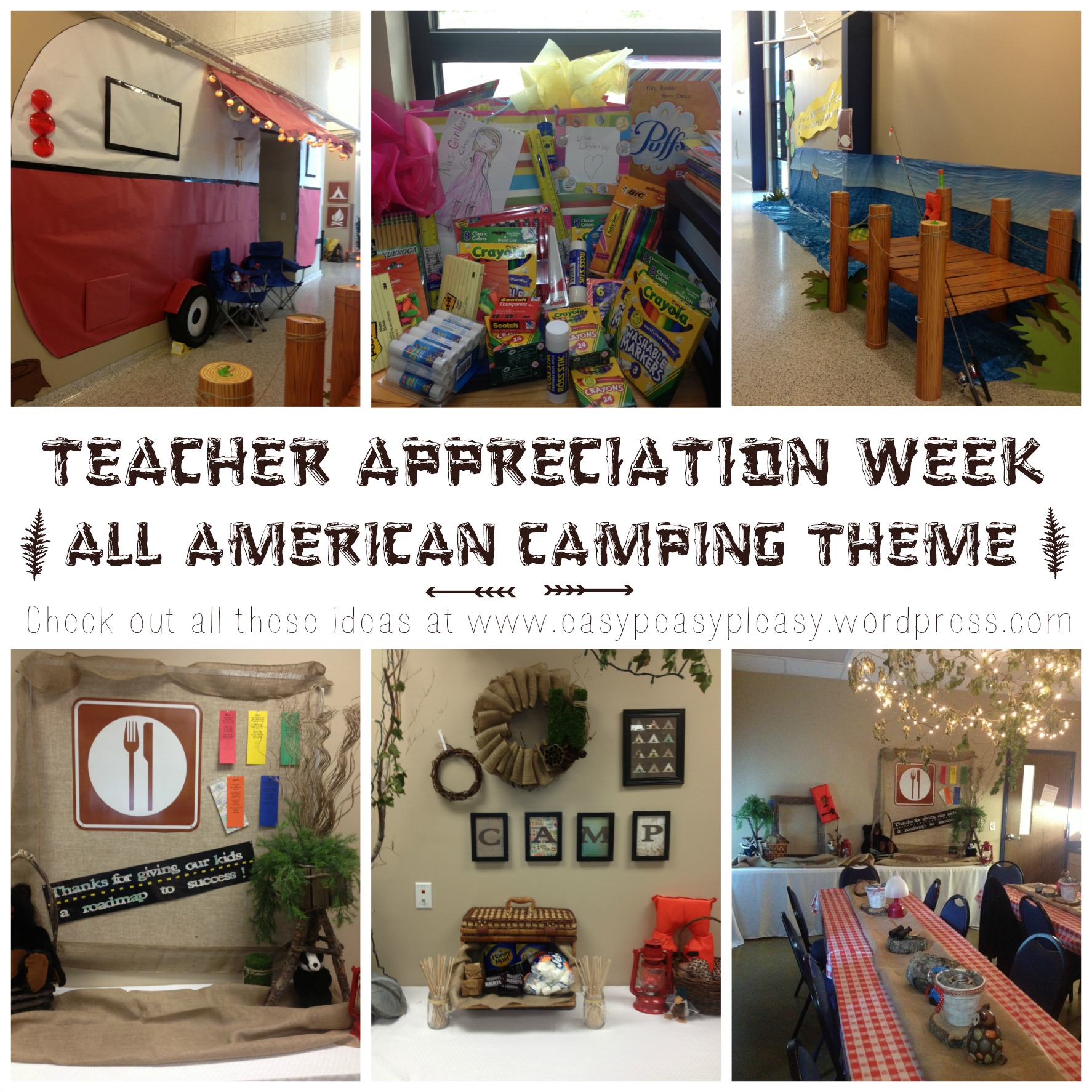 For more fun ideas for your school, check out my PTO category.
Subscribe to Blog via Email
{*This post contains affiliate links which means that if you click on one of the product links and make a purchase, I'll receive a small kickback for referring you. It does not change the prices at all for you. All opinions expressed are solely my own.}